Trailer feature: Farmec Trailers
---
Farmec boasts a comprehensive range of durable tip trailers ranging from one to 25T capacity, with each product designed and built to stand the demanding NZ conditions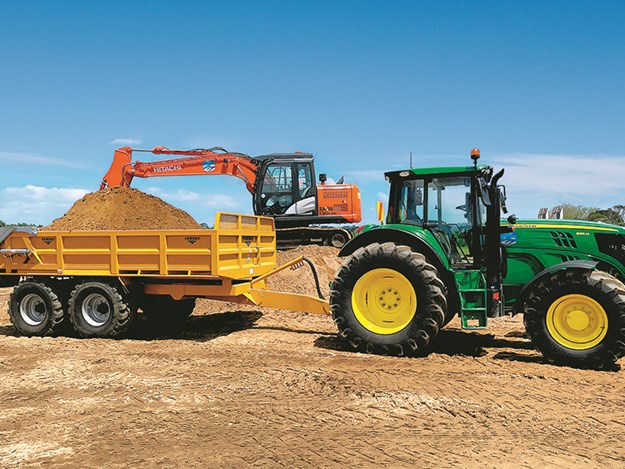 As the owner, operator, and designer of agricultural trailers and feeders, it's fair to say that Gary Baker is well-invested in the brand.
Farmec boasts a comprehensive range of durable tip trailers ranging from one- to 25-tonne capacity, with each product designed and built to stand the demanding New Zealand conditions.
Functionality is at the heart of the Farmec design, with more than 35 years of continued success both in the UK and now in New Zealand.
"When it comes to designing and manufacturing ag machinery, my ethos is the same as when I started out fresh off the boat in 1999," says Gary.
"Everything is built to perform and designed to last," he says, "and we're proud to offer a wholly built New Zealand product.
"We've got a great base of repeat and long-term clients — which says it all really — and with farming conditions that dramatically vary from Kaitai to Invercargill, it's important to get the spec right."
Gary adds the key attributes of a good-quality trailer include:
Keeping the centre of gravity as low as possible to ensure the trailer sits on its rubber as wide as possible
Optimum load transfer to the tractor drawbar adding 'free load' to the tractor back axle
Ensuring that the load capacity doesn't exceed the tractor capacity in the work area
Chassis designed to handle the load that's being applied with hydraulic ram to match
A robust tandem unit with big axles and greaseable pivot and ideally, a camber built-in
"In New Zealand, we have a few added benefits when using a farm trailer," says Gary. "We're allowed 3.1 metres wide, which enables a good-sized excavator to be moved and gives enormous stability when working on hills.
"Also, when operating under 40km/hour, the tractor-trailer combination isn't subjected to the rigorous regulations of the EU, so we can use walking beams rather than spring suspensions on our silage trailers that have to work on steep hillsides, reducing roll over and purchase price.
"So, whether you're buying a one-tonne tipper for your compact tractor or 25 tonnes behind your 350hp tractor, rest assured, we've done the homework to make the Farmec trailer survive the next 30 years."
 Find new and used farm machinery for sale in NZ
Keep up to date in the industry by signing up to Farm Trader's free newsletter or liking us on Facebook