Taming the T-Rexx
---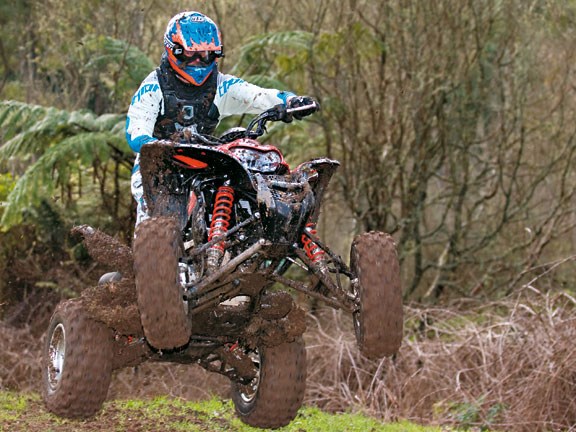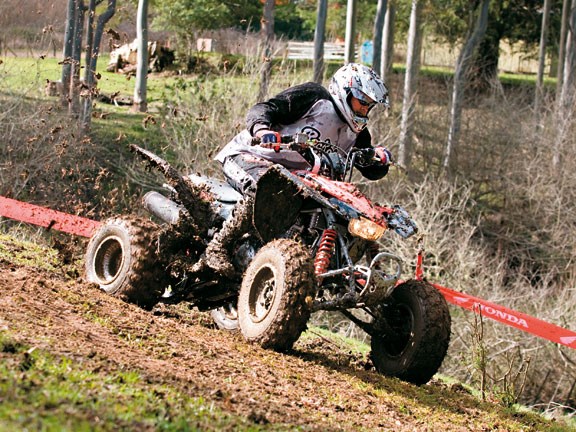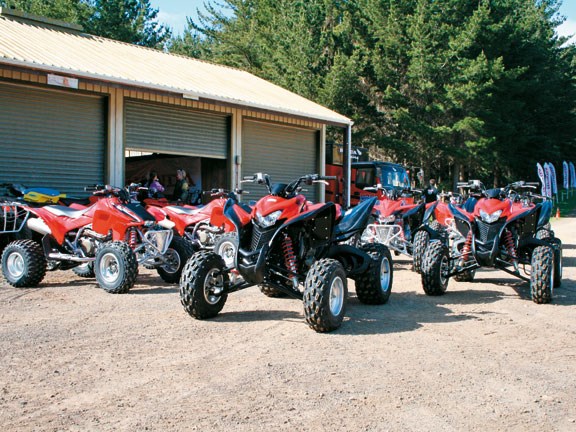 Honda's TRX700XX Quad
Honda has joined the big bore sports ATV market. Some would say belatedly, what with Yamaha's Raptor being around for what seems like ages, Kawasaki's vanishing V-Force, plus the more recent arrival of Can-Am's Renegade, but Honda have sat back and waited to see how Joe Public took to the big bore four-wheelers first, and with proven growth within the niche worldwide, thought it timely to throw a big mean red machine into the mix. The 700cc T-Rexx was born.
Local Honda importers Blue Wing did itself proud picking a fine day and location to let loose the usual journo suspects on the new beast, plus other sports machines within the TRX sports range. Maramarua Forest is simply a fantastic place to skid and drift sporty rear-wheel drive ATVs, and Greg Power had marked us out a great mix of slippery clay tracks just wide enough for thundering through on four-wheelers, plus nice wide winding gravel sections to test the top gear pace and 'driftability', which ATVs are so good at. I like a launch where riding is the priority rather than fanfare and balloons. Mind you, must be said, great lunch!
Also in attendance was multiple national ATV champion and Race to the Sky ace Ian Ffitch, to show us even as good as we think we are, a little more skill and experience brings with it yet more speed, definitely more control, and longer wheelies.
The launch plan involved initially attacking a marked track to familiarise ourselves with the new 700 and other machines in attendance, and on the Honda side to make sure we were piloting in some sort of controlled fashion (ie. not going to hurt ourselves, or the ATVs). Obviously we fooled them, as soon after they pointed us to the marked forest trails and let us loose, hiding a photographer here and there to record our fun; oops of course I mean hard scientific work!
To read the full review and see more images of the Honda T-Rexx, visit Motorcycle Trader here.
Keep up to date in the industry by signing up to Farm Trader's free newsletter or liking us on Facebook