R&D emphasis for Deutz-Fahr
---
European tractor maker Deutz-Fahr is stepping up its investment in research and development to enable it to continue its drive towards market leadership in the international agricultural machinery market.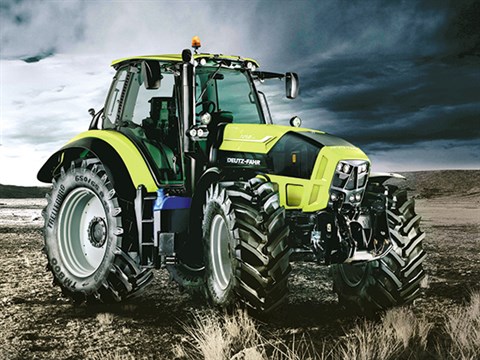 Brett Maber, national tractor manager for New Zealand distributor Power Farming, says the advances in tractor design from the increased spending will build on the great Deutz-Fahr products already here, and make for a bright future for the big green tractors.
"In the last five years, Deutz Fahr has invested 200 million euro in R&D, and over the next five years it will invest a further 250 million euro," he says.
"The result is world-leading, reliable, state-of-the-art tractors with cutting-edge efficiency, economic performance, productivity, comfort and style which set Deutz-Fahr tractors apart from anything else in the market.
"Our recent launch of some great tractors, such as the 7250 TTV — one of the most highly-acclaimed tractors to hit the market for some years and the 2013 Tractor of the Year — and the equally impressive 5 and 6 Series, demonstrate the positive developments of this R&D."
On the horizon are two new series of high-horsepower tractors, the Deutz-Fahr 9 Series and 11 Series. The 9 Series is expected to offer tractors up to 340hp and the 11Series up to 440hp.
Maber attended Agritechnica, the world's largest trade fair for agricultural machinery and equipment in Hanover, Germany, this year, where he saw prototypes of the two new series.
He says the proposed new models will leave the competition behind in the super-horsepower stakes.
Deutz-Fahr's is the fastest growing high-performance tractor brand in Europe and is a world-leading manufacturer of tractors, harvesters, diesel engines, and agricultural machinery with more than 250 designers and technicians, and in partnerships with universities and polytechnics in Italy, Germany, Poland, and China, and with the renowned Italian design house Giugiaro Design, well known for its work with Ferrari and Lamborghini cars.
The company is headquartered at Treviglio in North Italy, and now has eight production sites in Europe and Asia, along with sales subsidiaries and joint ventures in Europe, North America, and Asia. It's currently building a huge new factory at Lauingen in Germany, which will alone produce more than 16,000 tractors annually and will incorporate a test drive area, a training centre, showroom, museum, and shop.
Kiwi farmers have been quick to recognise and take advantage of the benefits of the European-designed tractors. Power Farming, which took over distribution four years ago, has now sold more than 1000 Deutz-
Fahr tractors.
This year, Power Farming launched the new 5 Series (100-130hp) and the 6 Series (120-160hp). Both series offer models with either powershift or variable transmissions, and both are proving popular with New Zealand farmers and contractors, says Maber.
Deutz-Fahr tractors come with a full factory warranty, further backed with Power Farming's countrywide dealer and service network and extensive spare parts facility.
For more information contact Ross Nesdale, national marketing manager, Power Farming, on (07) 902 2226
For the latest farming news and reviews, subscribe to Farm Trader magazine here.
Keep up to date in the industry by signing up to Farm Trader's free newsletter or liking us on Facebook