Pink bales for breast cancer awareness strike a chord overseas
---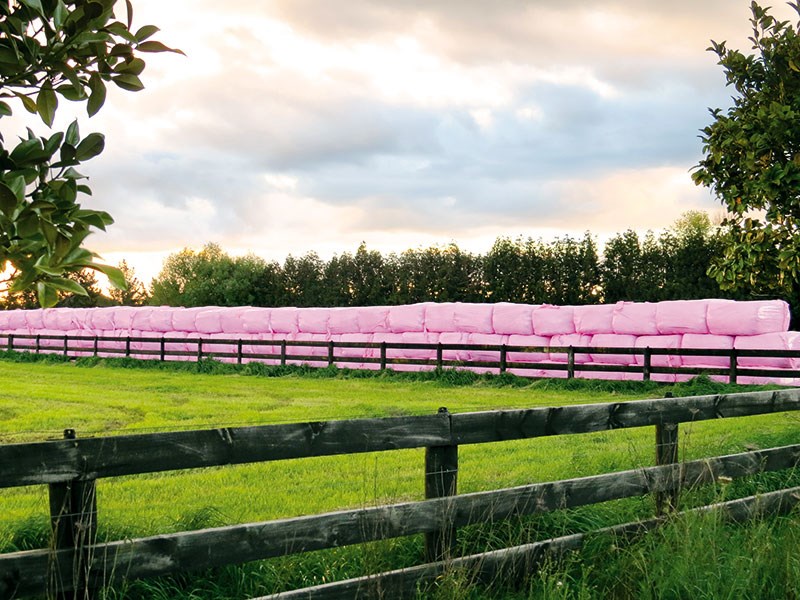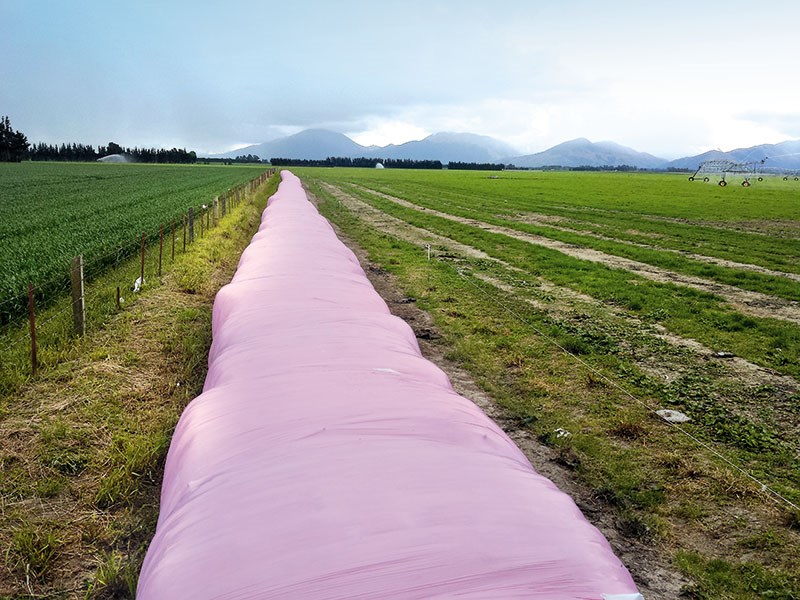 A New Zealand crop packaging company's initiative to use pink bales of silage and hay to raise the awareness of breast cancer rural communities is now being adopted in other countries around the world.
The pink bales of silage, and pink and black bales of hay, that have appeared near highways in farming districts this season are an initiative by crop packaging supplier Agpac to get people talking about women's health and in particular breast cancer prevention.
Agpac general manager Chris Dawson says his company worked with its overseas suppliers to develop the pink wrap and pink and black netwrap.
Agpac is donating a percentage of the sales of the pink products to Sweet Louise, which provides practical support to improve the lives of Kiwi women with secondary breast cancer and their families.
"The limited supply of the pink silage wrap and pink and black netwrap we had this year is selling very well," says Dawson.
"The support we received from farmers, contractors and from rural newspapers that picked up the story has been very gratifying. Thanks to this positive response, we will expand the programme next year."
Dawson says Agpac sales representatives requested that contractors who bought the pink wrap should supply it to farms near major roadways so the pink bales would be very visible.
Te Awamutu contractor Maurice Forkert was one of those who supplied the pink wrap. He says it was very popular with his dairy farmer clients and especially their wives.
"It was all sold by word of mouth. One the farmers who bought it wasn't so keen at first but his daughter insisted and he came around," says Maurice Forkert.
Dawson says many of those who ordered the pink products have a wife, mother or sister who has had an experience with breast cancer.
"We want to thank everyone who bought these products, not least because it will enable us to donate to the Louise Perkins Foundation, which is doing fantastic work helping women who are in the difficult final stages of breast cancer," he says.
Sweet Louise is a charitable trust that works to improve the lives of New Zealanders women with secondary breast cancer. The support services Sweet Louise provides range from counselling and emotional support to haircuts, wigs and hats, to helpers who do chores around the home.
Sweet Louise CEO Fiona Hatton says she is thrilled that Agpac wants to support the organisation and raise awareness about breast cancer in regions that are otherwise hard to reach.
"We are grateful that Chris and the Agpac team have chosen to support us. I think we have built a genuine partnership with them. They have a real affinity with us and understand some of the difficulties our members go through.
"We provide services throughout the North Island, including nurses who work in rural areas. We have members in the South Island and are looking to expand our services there.
"But we are still a small organisation, and we would never manage to do the kind of marketing in rural areas that the pink bale initiative has achieved," says Hatton.
Dawson says he also wants to thank Agpac's overseas suppliers that made the pink bale campaign possible. They are the Israeli company Tama Plastic Industry, which supplied the pink and black striped netwrap, and Swedish company Trioplast, which supplied the pink bale wrap.
"Our Australian parent company Tapex has picked up the idea and is promoting breast cancer awareness in rural communities there. Tama is rolling out its pink and black netwrap in Europe and Israel," he says.
"The story has been picked up by social media and we have requests for information from around the world."
Next year Agpac will increase its volume of pink bale wrap and pink and black net wrap to cater for the extra demand that has been created. It will also add a blue bale wrap to raise awareness of men's health and prostate cancer in support of Prostate Cancer Foundation NZ.
For the latest farming news, subscribe to Farm Trader magazine here.
Keep up to date in the industry by signing up to Farm Trader's free newsletter or liking us on Facebook