New Massey Ferguson models launched in NZ
---
Northland Field Days was the launching pad for the new Massey Ferguson models from the Global Series.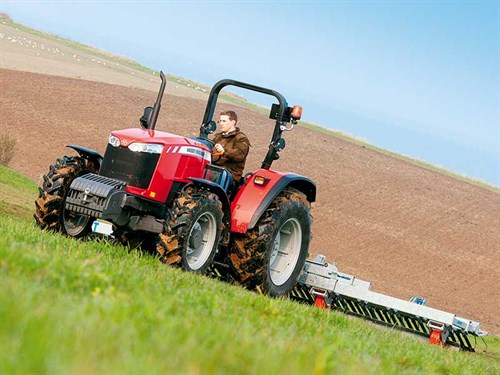 As worldwide brand AGCO announced the introduction of the first tractors in its new Global Series, Northland Field Days crowds flocked to see this hot release freshly arrived in New Zealand.
The MF4707 and MF4708 are the first new models in a ground-breaking new 74hp to 82hp global family. These are the initial tractors in a new Global Series that will eventually offer three ranges, four different transmissions and be available in footstep, semi-platform and cab versions.
"It's taken the best brains in Massey Ferguson to design and build this brand-new range of workhorse tractors," says marketing director Simon Hole. "These state-of-the-art tractors are the result of a $350 million investment in a completely new, clean sheet design. They are developed specifically to provide utterly dependable operation in a wide range of applications to meet the needs of a diverse range of farmers worldwide.
"Unlike the majority of other tractors in the sector, which are based on earlier designs and components, the Massey Ferguson Global Series has been designed and built in the 21st Century and is purpose-built for modern applications. While using the very latest, advanced engineering and manufacturing tools and techniques, they still retain our traditional straightforward operation, dependability and value for money," he says.
"In addition, we have sought where possible to use existing design technology and components from our recently successful ranges, which are not only specially developed for the modern era, they allow us to provide local parts and service most efficiently across our whole range of tractors, wherever they are in the world."
More than 90 percent of the parts and components in the Global Series are entirely new – designed and engineered specifically for the tractors. Combined laboratory and field testing has reached over 36,000 hours and, reflecting the global nature of the new machines, prototypes have been tested in brutal conditions from Arizona in the USA to Lusaka in Zambia.
The first Global Series models debuted in New Zealand when the tractors were showcased to the public at the Northland Field Days.
For the latest farm machinery reviews, subscribe to Farm Trader magazine here.
Keep up to date in the industry by signing up to Farm Trader's free newsletter or liking us on Facebook