Challenger takes King of the Field award at SIMA 2015
---
Challenger's newly launched MT775E was voted Machine of the Year XXL at the 2015 SIMA Show held recently in France.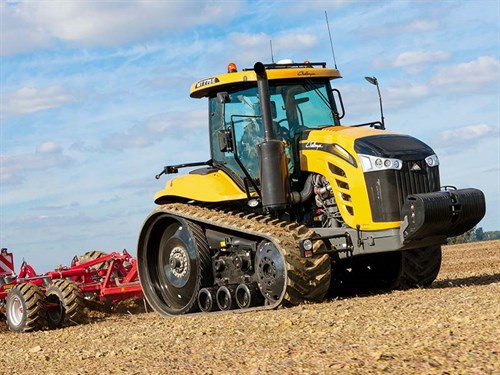 One of the most prestigious accolades for tractors incorporating innovative technology and overall performance, the selection was made by 19 independent agricultural journalists representing 17 European countries trade magazines.
The MT775E is part of a new series of high horsepower tracked tractors – the Challenger E Series. The new series was recently revealed to the Australia/New Zealand market at the end of February in Brisbane, where Australian and New Zealand Challenger dealers learned about these groundbreaking machines.
Challenger, a worldwide brand of AGCO, is helping farmers take on the toughest conditions with the all new Challenger MT700E and MT800E series track tractors. Available in a range of models with power delivery up to 431hp (max) and 637hp (max), these rugged and reliable machines pair efficient new AGCO POWER 9.8-litre engines and 16.8-litre V12 engines with efficiency-boosting features for power and productivity.
"Our customers value efficiency," says Jeremy Duniam, product marketing manager for Challenger Tractors. "They're looking for a tractor that can make short work of high-horsepower tasks while providing maximum fuel economy and minimal field compaction. Our new Challenger E-series track tractors deliver optimum power transfer, outstanding fuel efficiency, and best-in-class traction and flotation with a smooth, comfortable ride."
Built upon three decades of tracked tractor leadership from Challenger, the MT775E has a large 9.8-litre, seven-cylinder AGCO Power engine, which not only cuts fuel consumption by up to five percent, but also increases the maximum power by 15 percent to 438hp (56hp more than the previous MT765D model).
Other MT775E highlights include 25 percent extra engine torque (1921Nm), a 43 percent increase in hydraulic oil flow (321L/min), and the 53 percent larger fuel tank (659 litres) allowing operators to spend more time in the field between refills for even higher levels of productivity.
"Offering the convenience of easy access to routine service points and the benefit of field-tested reliability, AGCO Power engines offer massive pulling power with minimal exertion," says Jeremy Duniam. "This outstanding lugging ability helps operators accomplish more with less fuel."
The MT700E and MT800E series feature the industry-exclusive Challenger Mobil-trac system. The patented undercarriage design with oscillating mid-wheels delivers a smooth ride and a level of belt contact that puts optimum power to the ground. The simple and efficient design reduces fuel consumption, improves operator comfort, and leaves a lighter footprint in the field for less compaction.
Both the MT700E and MT800E series feature the distinctive pinnacle view cab. Perfectly positioned at the centre of the tractor, operators benefit from unmatched, 360 degrees of visibility. Clear sight lines to the tracks, drawbar and implements reduce operator strain and a powerful lighting package allows work to continue long into the night.
For the latest farming news, subscribe to Farm Trader magazine here.
Keep up to date in the industry by signing up to Farm Trader's free newsletter or liking us on Facebook