Kuhn ESPRO named Machine of the Year 2015
---
Kuhn's min-till seed drill ESPRO, unveiled for the first time during the SIMA show in Paris earlier this year, was awarded the Machine of the Year 2015 prize in the seeding category.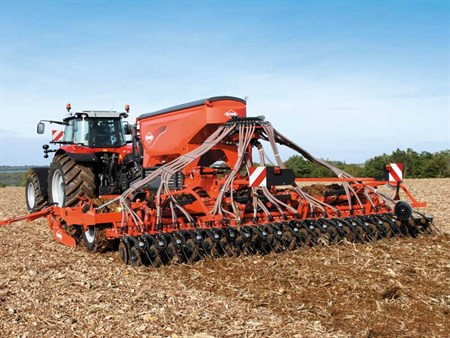 The Machine of the Year contest was initiated in 1997 by the German medium DLV (Deutschen Landwirtschaftsverlags) at Agritechnica and is now organised in odd years by Terre-Net at SIMA. The jury is composed of journalists from 11 European countries, all specialised in machinery.
Brian Robertson, Kuhn operations manager says, "Forward operating speed is a key priority when drilling, to ensure all crops are sown in a timely fashion, but this speed should never be at the expense of accuracy. Nor should it compromise overall operational efficiency, which means horsepower requirements should also be a consideration."
Kuhn's new ESPRO minimum tillage drill has a six-metre working width and has been designed with an equal focus on three key aspects of the drilling process: speed, accuracy and efficiency. The new machine uses the best of Kuhn's existing seed drilling technologies and expertise as well as a selection of innovative design elements.
"Two rows of 460mm concave discs are responsible for opening the soil and incorporating all residues into the surface layers, creating a fine tilth and functioning effectively even in heavy conditions," says Robertson.
"These discs are followed, in the centre of the drill, by a row of 900mm diameter press wheels which create an evenly consolidated soil profile for consistent soil-to-seed contact."
The large diameter of the press wheel helps to reduce the overall rolling resistance of the ESPRO, with the deep-treaded tyres also augmenting improved soil crumbling for a finer tilth. The tyres also feature a specially designed square profile to ensure uniform consolidation across the machine's full working width. The press wheels are also arranged in a front-to-rear offset design to further reduce rolling resistance, with 85mm inter-wheel spaces helping to minimise soil bulldozing and maintain good soil flow.
Further innovation comes with the CROSSFLEX seed bar, which has coulter arms mounted on polyurethane blocks that provide a secure fixing but with sufficient spring movement to maintain a precise seed depth at high working speeds. Double disc coulters, as used on Kuhn's successful SEEDFLEX system, provide the precision seed placement required for optimum crop performance.
The six-metre ESPRO 6000 R and a three-metre ESPRO 3000 version will be available in limited quantities from summer 2015. Other models and working widths will follow in the coming years.
For the latest farming news, subscribe to Farm Trader magazine here.
Keep up to date in the industry by signing up to Farm Trader's free newsletter or liking us on Facebook