Grasslandz 2016 adds effluent hub
---
The team at Grasslandz held an open day for potential effluent exhibitors on Friday 4 September at the site of the two pond effluent systems currently under construction.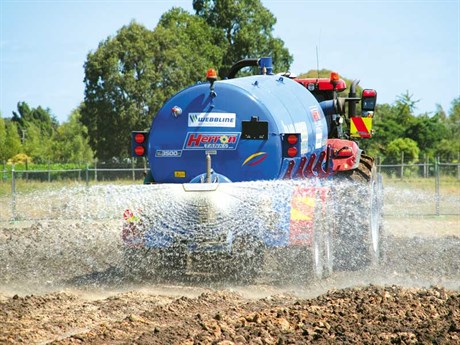 "This was an opportunity to meet all potential exhibitors and introduce to them the concept of the effluent hub at Grasslandz 2016," says Liz Stolwyk, effluent/irrigation hub manager.
Sales and marketing staff from various companies were there to discuss the layout plans for the event, which will feature two purpose built storage ponds for exhibitors to access. This will give them a unique opportunity to demonstrate pumps, stirrers, and irrigation gear.
There is over 2ha of clear space to show all manner of spreading gear including travelling irrigators, umbilical systems, effluent tankers and solids spreading.
"Adding an effluent hub was a natural extension to the Grasslandz event," continues Stolwyk.
"We have had exhibitors in the past that have effluent gear as part of their range, and now the full range of effluent and irrigation equipment can be displayed. It's in keeping with our strong theme of agricultural machinery being demonstrated in front of interested farmers."
With the Waikato Effluent Expo's decision not to run in 2016, this was a great opportunity for Grasslandz to offer an alternative with the Effluent hub. WRC will be present at the Grasslandz event to help ensure the right advice is available to farmers. They are planning to have an advice hub together with other organisations like Fonterra and DairyNZ.
The pond system will be both lined and built to industry best practice and regulations. A unique feature is they will have two very different lining options to display differences. One will be lined with EPDM (rubber) and the other HDPE (plastic) supplied by Enviroline of Cambridge, so buyers can see first-hand how both options appear.
Leak detection systems and drainage will also be accessible and provide a real life, hands on exhibit for farmers to understand pond construction. Representatives from Dairy NZ and Fonterra's on farm team were on site of Friday and are also excited about attending the effluent hub to be able to show farmers first-hand what they are looking for.
The two side-by-side, 1000m3 ponds will be linked so they act as one. Both will be fully fenced and provide ample viewing for farmers looking at the array of pumps and stirrers from companies that have booked space on sites that surround the pond.
The Grasslandz team had their health and safety specialist onsite to discuss with exhibitors how pond access would be facilitated, while keeping public safe. It was a great example of how working together from the start was preferable to exhibitors that understood the requirement for robust health and safety, and worked on solutions together as a team.
The lined ponds will also form an integral part of the irrigation system used by the Grasslandz team in the lead up to the event, to grow green lush grass for the exhibitors who have booked prime demo sites around the Grasslandz event. These exhibitors require grass to demonstrate grass harvesting machines such as mowers and balers. Two of these sites also were reserved on the day with the full house sign about to go up for grass harvesting exhibitors.
The effluent hub is just one of a number of successful hubs that have completely changed Grasslandz into a unique demonstration event that focuses on farmers and contractors.
For the latest farming news, subscribe to Farm Trader magazine here.
Keep up to date in the industry by signing up to Farm Trader's free newsletter or liking us on Facebook