Key piece of New Zealand dairy history up for sale
---
CRV Ambreed's move to a new purpose-built production, distribution and logistics centre marked an exciting new era for the company.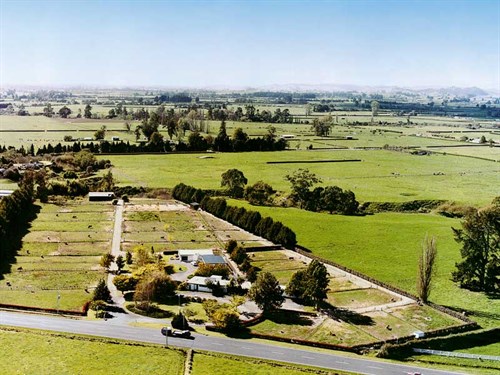 Its old 13.7-hectare bull farm is now up for sale, offering a key parcel of land for a new owner to realise a new opportunity with.
Over 3000 bulls have been housed at the farm on the outskirts of Hamilton since it was established in 1969. At the company's peak production, over 200 bulls were housed on site at any one time.
Farm manager Dave Smith has worked on the farm since 1990 and speaks fondly of the legendary bulls who have called the paddocks home.
"I have a real passion for the production side of our business and the semen collection work our team performs. I get a real buzz out of ensuring we have the healthiest and most productive animals possible – our aim is to house happy, fit bulls. The move to a new facility is exciting in that it truly adds credibility and delivery of this aim," he says.
"When I think back to a few of the legendary top sires I've been able to work with, a few notables come to mind that breeders will no doubt remember as well.
"Magley is one of the greats who was productive for an amazing eight years in the nineties. Manhattan, Murmur, Banquet, Amadeus, Extasy, Firenze, Pierre, Skelton and Paladium are a few others.
"These were all top sires on the RAS list and many remained productive beyond their second crop of daughters," Smith explained.
CRV Ambreed operations manager Andy Medley says the company achieved several 'New Zealand firsts' while headquartered at the old centre."One of those was we were the first company to export live bulls for sexed semen production from our centre to America."
Medley's memories of key events the company had at the centre include a bull parade whilst hosting the 2010 World Jersey Conference.
"One of the things we are most proud of achieving at the old site was becoming an EU approved collection centre in 2008. This allowed us to gain access to sell our semen throughout the EU, which was a significant milestone for CRV," he explained.
In December 2014, CRV Ambreed opened its new export-approved CRV Bellevue Production and Logistics Centre, on the outskirts of Cambridge, just a few kilometres away from its old facility.
Medley says the sale of the Cambridge Road property is a great opportunity for the company to maximise the capacity of its new purpose-built production and logistics centre.
CRV Ambreed's new Bellevue Production and Logistics Centre houses a semen collection facility, a semen processing laboratory, storage space for export and domestic products, a warehouse capable of holding over 6000 artificial insemination banks and 38 hectares of grazing paddocks.
Enquiries regarding the sale of CRV Ambreed's property can be made to David Soar at Cambridge Real Estate.
For the latest farming news, subscribe to Farm Trader magazine here.
Keep up to date in the industry by signing up to Farm Trader's free newsletter or liking us on Facebook