Fieldays creates education hub for students
---
NZ National Agricultural Fieldays is turning up the focus on education this year with the Fieldays Careers and Education Hub.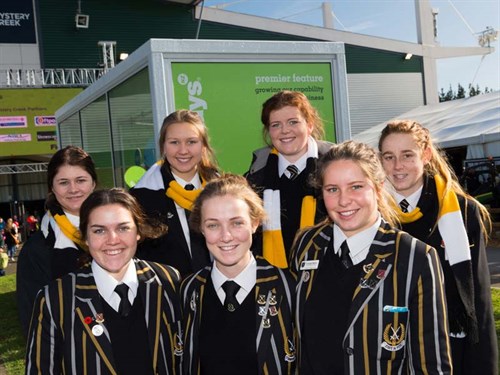 The Fieldays Careers and Education Hub is a dedicated and interactive space featuring daily presentations, career champions, panel discussions and debates.
In the hub, students will be able to speak with agricultural enterprises to find out about study opportunities and career paths within their businesses.
With support from Fieldays' principal partner the University of Waikato, GrowingNZ, NZ Young Farmers and St Paul's Centre of Excellence in Agricultural Science and Business, among others, Fieldays is excited to give young people an opportunity to explore a future in the agriculture industry and primary sector.
"As one of Fieldays' three founding pillars, we are pleased to provide an interactive space of Education," says Lee Picken, NZ National Fieldays Society (NZNFS) head of events.
"It's through increasing the awareness around agri-focused education and careers that we will advance agriculture. The great thing about the Fieldays Careers and Education Hub is that it facilitates interaction between those wanting to find out more about ag careers and established agribusiness and education programmes."
The University of Waikato has welcomed the initiative. AVC Communications, marketing and engagement David Craig says the university works year-round with students considering study options, and the Careers and Education Hub is an opportunity to talk with them in a relevant environment such as Fieldays.
"As the major tertiary provider in the Waikato, we are committed to seeing our region thrive through the education of our young people. We look forward to meeting many students and their parents at the Hub."
GrowingNZ will be in the Hub to showcase the myriad pathways for young people in the industry.
"There are so many opportunities for young people to be part of growing New Zealand – developing our technologies, our markets, our earnings and our sustainable future," says Andy Somerville of GrowingNZ.
"This is a great initiative by Fieldays as it is so important that students get a chance to find out what is possible. We will be in the Hub and look forward to meeting students, teachers and parents."
NZ Young Farmers CEO Terry Copeland says the Career and Education Hub is a great opportunity to showcase the "clear pathways for young people to make rewarding and successful careers within agriculture and agribusiness."
"NZ Young Farmers is delighted Fieldays is committed to promoting education as a major pillar to their event by creating the Careers and Education Hub, which will have a strong focus during the four-day event at Mystery Creek in June," he says.
"The collaboration with Fieldays and industry organisations that are passionate about the future generations of talented young people coming through will see the Careers and Education Hub create significant awareness of the importance of education within our industry."
St Paul's Collegiate School is enthusiastically supporting the innovative Careers and Education Hub at Fieldays. The Hub links with St Paul's Collegiate School's ground-breaking collaborative partnership of the development and delivery of NCEA Agribusiness Achievement Standards to secondary schools in New Zealand.
"The Careers and Education Hub, alongside this pioneering programme, will stimulate careers in agricultural science and business and encourage tertiary-capable young people to proactively select careers pathways in the sector," says Peter Hampton, St Paul's deputy headmaster.
"Both initiatives will help to improve school and community perceptions of the importance of Agribusiness to New Zealand, while further engaging the urban sector with the primary sector which politically is so very important for New Zealand's future."
NZ Young Farmers will run its Get Ahead Programme, bringing Auckland high school students to Fieldays to showcase opportunities the primary sector holds – opportunities these students would not be exposed to otherwise – as well as holding debate heats, with the final being held on the Village Green.
The Hub will also showcase leadership and award scholarship opportunities within the rural sector. Visitors can also attend the panel discussions and multiple seminars presented by industry-leading companies.
For the latest farming news, subscribe to Farm Trader magazine here.
Keep up to date in the industry by signing up to Farm Trader's free newsletter or liking us on Facebook