Volunteers are the 'backbone' of Fieldays
---
In the lead up to NZ National Agricultural Fieldays 2016 (15-18 June), a huge team is working behind the scenes to ensure the event goes off without a hitch.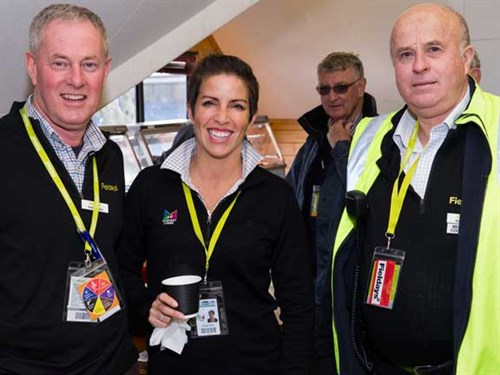 NZ National Fieldays Society (NZNFS) is a not-for-profit organisation and relies on the contribution of volunteers to bring together the Southern Hemisphere's largest agricultural event, and keep it running over the four days.
NZNFS has a core of 160 valued Society volunteers that return annually to keep things running smoothly, and 2016 will see that group balloon to over 300 during Fieldays. Volunteer coordinators Kerry Clarkin and Deb Kay say the society receives help in all areas and from all ages.
"Marion School has been involved since day one. Members from the school volunteer at the gates, always with a smile to greet visitors every morning," says Clarkin.
"And a smile is a good thing to have – it gets pretty busy around here with over 300 bodies helping out each day."
Peter Nation, NZNFS CEO, says volunteers are the backbone of Fieldays.
"As part of our volunteer growth strategy, having dedicated resources for volunteer care, recruitment and growth has resulted in record numbers ready to brave the weather and be part of the team. We have volunteers manning the info booths, museum, parking sites, site services, and exhibition areas," says Nation.
Diane Sharpe, part of Rural Women New Zealand, has been donating her time for over 40 years. She first got involved with Fieldays when it moved from the Te Rapa Racecourse to Mystery Creek in 1970, and has been helping out ever since.
In the beginning she was on catering duty, making sandwiches for the volunteers with the Women's Division of Federated Farmers, before Fieldays grew and there were too many mouths to feed.
"It's funny – times have changed. We used to just make the sandwiches – no gloves, no wrapping – and take them to Mystery Creek. I'm fairly sure the hall at Rukuhia had rats! But to the best of my knowledge, no one ever got sick from it.
"You couldn't do that these days."
The catering grew out of the barn to the purpose-built kiosks around 1980, before they too fell by the wayside in 1996. The job was becoming too big for the Women's Division of Federated Farmers and they began contracting it out. Shortly afterwards, Fieldays took over the catering of the event, with the ladies still helping out.
For the past three years, Diane's been volunteering as a liaison and sadly this year will be the first year visitors won't see her at Fieldays as she is taking a much deserved holiday.
"But I'll definitely be back next year, no reason not to. I'll be around for the 50th anniversary and beyond."
Keep up to date in the industry by signing up to Farm Trader's free newsletter or liking us on Facebook