Dramatic improvement in water quality expected from aquifer project
---
A project which provides fresh ways to improve water quality in New Zealand rivers opened its doors to the public last month.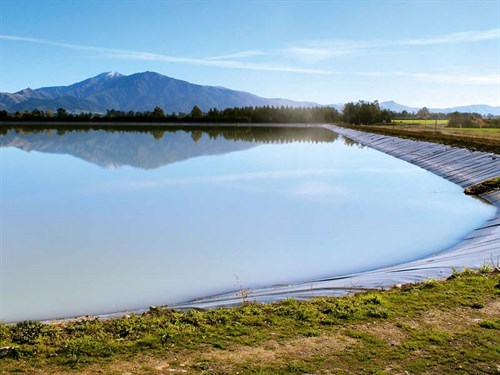 The Hinds/Hekeao Managed Aquifer Recharge project takes clean Rangitata River water and puts this into the aquifer, helping solve current water quality issues as well as improving stream flows.
The recharge project in combination with improving farm environmental performance, through nutrient limits and audited farm environment plans, will allow waterways in the zone to regenerate and thrive. Water will come from the Ashburton District Council's stock water allocation via the Rangitata Diversion Race and Valetta Irrigation Scheme.
Managed aquifer recharge is used very successfully in the United States and Europe to replenish aquifers for domestic and agriculture water supply, as well as for ecological purposes. This project is a first for New Zealand and IrrigationNZ is excited because a successful trial would mean other catchments could also benefit from similar projects.
It is clear the New Zealand public has an appetite for improved water quality for our lakes and rivers. This is a great example of the local community coming together to make positive change happen.
On an educational front, IrrigationNZ has entered a new partnership with five regional councils to provide detailed information about water management in their regions. From this month, our industry magazine IrrigationNZ News features four pages of content from Bay of Plenty, Hawke's Bay, Greater Wellington, Environment Canterbury and Otago regional councils.
As expectations of good management practice around water grow, the pressure is on water users to better understand what is required to be a SMART Irrigator. Providing direct access to what's happening in the sector, including the regulatory environment, will support consent holders looking to grow their capability. As well as practical advice and technological information, IrrigationNZ News offers a window into the economic, environmental, recreational and social issues associated with irrigation. Receiving print copies of the magazine is one of the benefits of Irrigation New Zealand membership. If you're not a member you can view copies online.
Finally, the quieter winter months present an opportunity for irrigators and related industry professionals to pick up new skills and shore up knowledge.
Two NZ Certificate in Irrigation Management qualifications will commence in the North and South islands in August. They will be followed by the NZ Certificate in Performance Assessment qualification late August/early September.
The first two NZQA linked qualifications allow irrigating farmers and staff the chance to benchmark their achievements, while the Performance Assessment course provides industry professionals the opportunity to gain skills and knowledge to carry out assessments of irrigation systems in order to determine how efficiently they are operating.
Keep up to date in the industry by signing up to Farm Trader's free newsletter or liking us on Facebook