High value grass-fed Wagyu beef
---
The use of Wagyu with genetics for high-marbling as a terminal beef sire is being promoted by the Marbled Grass-fed Beef Primary Growth Partnership programme.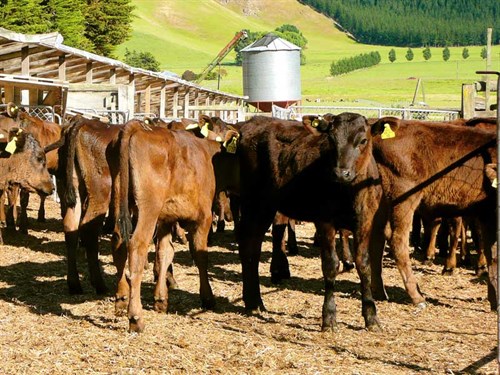 The move is in response to the demand for the premium beef. One Norsewood dairy farmer is looking at earning a third of his income from raising Wagyu-cross calves.
The PGP programme, led by Firstlight Foods and Brownrigg Agriculture Group in partnership with the Ministry for Primary Industries, utilises calves that are currently of little value to the dairy industry. When crossed with Wagyu sires, dairy breeds including Friesian and Friesian/Jersey have proven they can produce the superior marbled, Wagyu beef. 
"Wagyu is already recognised as the 'pinnacle' in terms of beef demanded by consumers globally. The opportunity is significant in terms of the economic benefit it can bring to a farming operation," says Firstlight Foods managing director, Gerard Hickey.
"For dairy and beef farmers looking for a farming system with stable, sustainable returns and to avoid the highs and lows of the commodity market, diversifying into Wagyu is an option worth investigating."
While Angus-cross animals account for two-thirds of the Wagyu stock in New Zealand, the number of dairy farmers looking to introduce Wagyu into their operations is increasing.
Russell and Charlotte Heald milk 430 cows in a family operation in Norsewood. They are now into their second year of rearing Wagyu-cross calves, taking them through to finishing.
"We use Wagyu semen to artificially inseminate our mixed age cows to better utilise our calves," says Mr Heald.
"The impact has been huge. We're half way through calving and have only sent three bobby calves away. It makes good sense to utilise what is being produced and diversify at the same time and add to the cash flow. Within two years, a third of our income will come from Wagyu beef."
The Heald's make use of a 128 hectare run-off block previously used to winter cows, graze heifers and make supplements to support the dairy farm. They rear the calves, which they carry through to killing from 22 months of age.
"We are now cutting back the area on the run off to support the dairy farm and running Wagyu animals as it makes economic sense to do so," says Heald.
"The Wagyu opportunity for all farmers is that there are agreed returns for the animals in advance, so there's certainty of income. It's also the best use of New Zealand's 'IP', using Wagyu genetics to produce grass-fed, marbled beef animals," adds Mr Hickey.
Firstlight Wagyu is the largest producer of Wagyu beef in New Zealand, accounting for the majority of all the grass-fed marbled beef. Currently there are 37 shareholders in the Producer Group, a collective of farmers that supplies a range of New Zealand and international customers. In addition, 190 dairy and beef farmers are contracted to supply the group.
"It's the added value the Wagyu opportunity can offer a farmer," says Mr Hickey.
"There's an integrated value chain from the farmer to market. It's a premium product that attracts interest from farmers and consumers alike."
Keep up to date in the industry by signing up to Farm Trader's free newsletter or liking us on Facebook