Aquasystems Australasia awarded for business excellence
---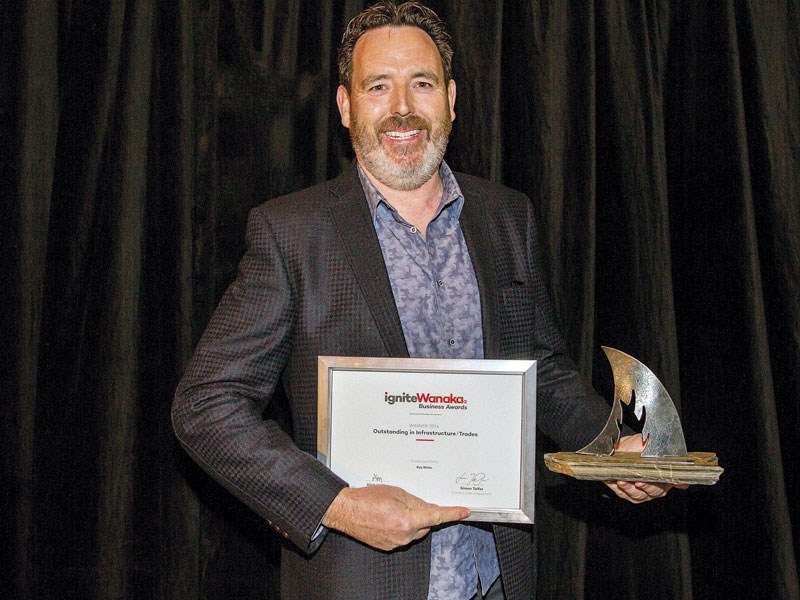 Aquasystems Australasia managing director Bruce Henley

Wanaka-based exporter won the Outstanding in Infrastructure/Trades category at Ignite Wanaka Chamber of Commerce Business Awards
Wanaka-based global exporter Aquasystems Australasia has collected a business excellence award in recognition of the company's innovation and growth.
The company, owned by former Invercargill innovator Bruce Henley, won
the Outstanding in Infrastructure/Trades category at the inaugural Ignite Wanaka Chamber of Commerce Business Awards earlier this month.
Aquasystems Australasia designs and supplies wastewater aeration systems for industrial and municipal clients, including Fonterra in New Zealand and Australian Government-owned authorities Melbourne Water and Water Corporation. It has recently been involved in the major expansion of Fonterra's Lichfield plant in South Waikato for the treatment of milk solids waste.
A specialist company serving a global market, Aquasystems designs technology for biological wastewater treatment.
"Our day job involves keeping aerobic bacteria alive by taking oxygen out of the atmosphere and dissolving it in wastewater. This is to provide an aerobic environment for microbial degradation of organic matter and to oxidise various contaminants and render them harmless before their return to the environment," Bruce explains.
Bruce set up Aquasystems in 2007 after selling the manufacturing arm of his Invercargill business, Henley Industries. While Henley Industries was a manufacturing and wastewater treatment equipment production company, Aquasystems concentrates on full-service design, supply, and project management of specialised aeration systems. Bruce shifted to Wanaka permanently in 2012 to run Aquasystems from the resort town, which wasn't an easy decision to make, he says.
"Early on we debated the logic of setting up a company serving an international market from one of the most landlocked towns in New Zealand – an hour's drive to an airport and hundreds of kilometres to the nearest container port. At the end of the day, it hasn't made an iota of difference. It just requires a willingness to make it work."
At the Ignite Wanaka Business Awards on Friday night, Bruce said he was proud of what the company had achieved in Wanaka. The high-calibre panel of nationally respected judges, convened by Simon Telfer, commended Aquasystems for its "world-class business, amazing growth, passion for excellence, innovation, risk management, and customer-centric focus".
Keep up to date in the industry by signing up to Farm Trader's free newsletter or liking us on Facebook