Annabel Langbein at Wanaka Show
---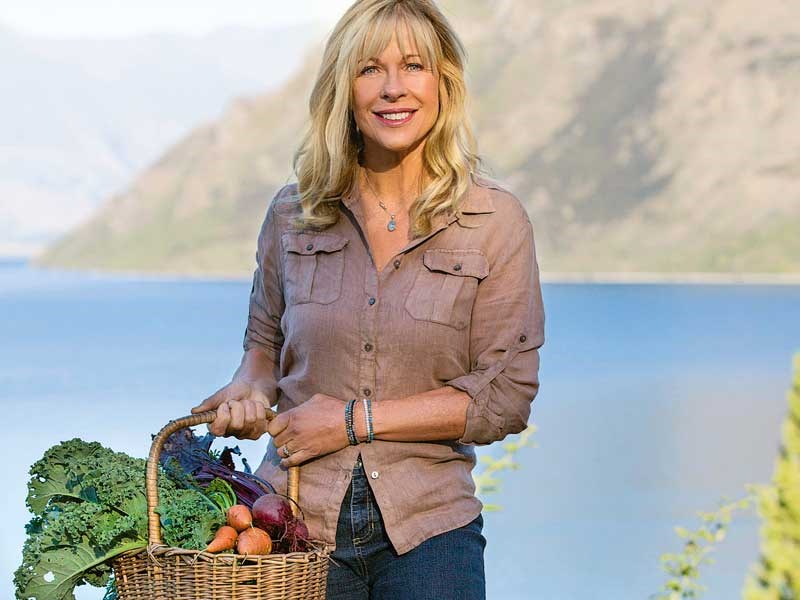 Popular celebrity cook, best-selling author, and TV personality Annabel Langbein is expected to draw record crowds to the upcoming Wanaka Show.
The Wanaka local, who has achieved phenomenal success in New Zealand and internationally with her cookbooks and
TV show The Free Range Cook, will present live cooking demonstrations at the show's 80th anniversary celebrations on 10–11 March.
Regarded as the South Island's premier lifestyle, agricultural, and pastoral event, the Wanaka Show attracts 40,000 people each year. Although she is a long-time attendee, Annabel says she is looking forward to presenting at the event for the first time.
"I can't wait. It's such a great community event that brings together everyone from the farming community, as well as the town," she says. "It's heartland New Zealand stuff, taking us back to our history, and the celebration of livestock, horsemanship, and rural homemaking along with all the fun of a fair."
Annabel will be cooking in the GJ Gardner Life & Style Marquee at 11.30am and 2.30pm on both days of the two-day event. 
"I'm super excited to be cooking up delicious recipes from my gorgeous new book Essential Annabel Langbein, which will be hot off the press in mid-March," Annabel adds.
"It's my biggest and best book ever, bringing together my favourite and most popular recipes from the past 20 years, plus a bunch of delicious new ideas, so I'm thrilled to be able to share it with my hometown of Wanaka before anyone else in the world gets to see it."
Show co-ordinator Jane Stalker says Annabel is one of the must-see attractions of this year's entertainment programme, which also boasts well-loved Kiwi duo the Topp Twins.
"We are delighted to host Annabel at the 80th Wanaka Show. Not only is she a wonderful cook, she's also an exceptional talent and captivating to watch, especially live. Of course, she's also a Wanaka local and has done a fabulous job of putting our region on the world stage," Jane says.
Traditional highlights of the show such as the 400-plus trade stalls, equestrian and livestock events, the Beef + Lamb NZ Golden Lamb Awards (also known as the Glammies), sheep shearing, wood chopping demonstrations, Kids Zone, and the famous Jack Russell race also return this year.
The Wanaka A&P Show is held at the Wanaka Showgrounds on Ardmore Street from 8am to 5pm on 10–11 March. Tickets can be purchased at the gate for $15 per adult for a one-day pass or $20 for a two-day pass. A youth pass (13–17 years) is $5 for both days, and children aged 12 and under are free.
About the Wanaka A&P Show
The Wanaka A&P Show is one of New Zealand's largest agricultural and pastoral events, attracting about 40,000 people and bringing $10.9 million worth of direct economic benefit to the local community each year. Run over two days and set on picturesque Showgrounds overlooking Lake Wanaka, the show includes traditional features such as equestrian and livestock events, home industry displays, wool classing, wood chopping, shearing, and more than 400 trade stalls from around the country.
Celebrity chefs demonstrate their skills in the Life & Style marquee as part of the show's two-day entertainment lineup, and novelty activities include the famous Jack Russell race and old-fashioned sheaf tossing. Where town meets country, it's the South Island's premier lifestyle event. The Wanaka Show's official show partner is Farmlands and major corporate partners are GJ Gardner, Hirepool, Plains Irrigators and ANZ.
Keep up to date in the industry by signing up to Farm Trader's free newsletter or liking us on Facebook