2017 Dairy Award winners environmentally conscious
---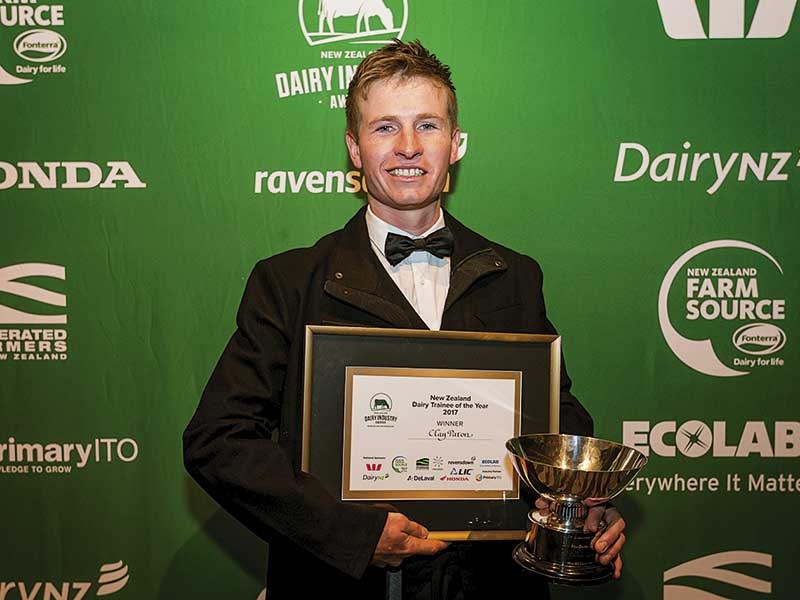 2017 NZDIA Dairy Trainee of the Year—Clay Paton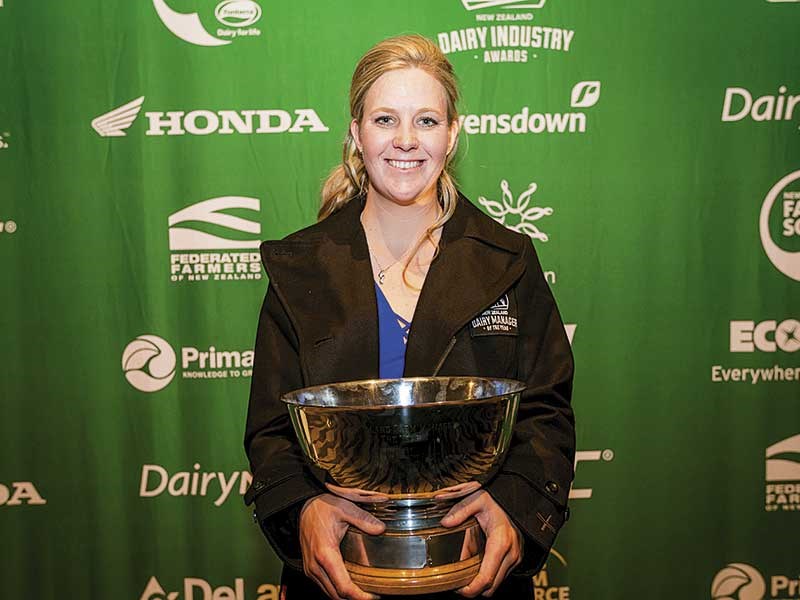 2017 NZDIA Dairy Manager of the Year—Hayley Hoogendyk

The 2017 New Zealand Dairy Industry Award winners and finalists are a group of people who are aware of environmental issues
Christopher and Siobhan O'Malley have been named the 2017 New Zealand Share Farmers of the Year, with Hayley Hoogendyk the 2017 New Zealand Dairy Manager of the Year, and Clay Paton the 2017 New Zealand Dairy Trainee of the Year. They shared prizes are worth more than $190,000.
"There was an overwhelmingly strong theme among the 33 finalists competing for honours in the awards programme," general manager Chris Keeping says.
"The finalists are acutely aware of the importance of farming responsibly, with regards to both environmental issues and animal management. It's extremely positive to see such dedication to these issues within the industry."
Share Farmer head judge Neil Gray, from Thames, says the judges were impressed to see that all finalists had a strong focus on environmental issues and they understood the impact agriculture has on the environment.
"They had some fantastic systems to manage dairy farm effluent and were aware of the public perception around these issues as well. "There was also a strong focus on animal welfare coming through. The condition and health of the herd was a priority for all finalists and they are genuinely aware of their responsibilities around animal health and welfare. That was definitely a strength for every finalist."
Neil says the O'Malleys are an excellent example of how embracing technology can enhance on-farm health and safety practices. "An example of this was their use of a free app to communicate with their team to notify them immediately of a new hazard identified on-farm."
The former adventure tourism guide and former secondary school teacher were very balanced right across all categories.
The couple, both aged 34, are 50% sharemilking 515 cows on Graham Brookers 138ha farm in Ashburton.
In winning the national title and $50,700 in cash and prizes, they demonstrated strengths in human resource and herd management. They won three merit awards with the DairyNZ Human Resources Award, Fonterra Farm Source Interview Award, and the LIC Recording and Productivity Award.
"The O'Malleys strongly demonstrated that you can put together a high-quality herd of cows within a budget constraint. They put a lot of effort into finding the right cows and travelled many kilometres in the car around New Zealand to find the ones they wanted.
"They have gone on to use this herd to add value to their business by thinking outside the box," explains Neil.
"They DNA-profiled their herd and selected the A2 cows that were fetching a premium in the livestock market in the Canterbury region. Even though they weren't receiving a premium for A2 milk, they were able to receive a premium for A2 cows by selling them to that market.
"They were very strong with their human resource management and have developed their team and delegated areas of responsibility to assist their staff to achieve. For example, one of the staff members was in charge of dairy hygiene, and when the operation received a Fonterra award for highest quality milk, it was their staff member who accepted it.
"They are also connecting with schools and trying to promote good, positive images of dairy farming, which is fantastic to see in a couple so early in their sharemilking career." Runners-up in the Share Farmer of the Year competition, Ngakuru 50% sharemilkers Carlos and Bernice Delos Santos have a real drive and passion to prove themselves in the New Zealand farming sector. They also won the Ecolab Farm Dairy Hygiene merit award.
"We walked into their cowshed and couldn't believe it was more than 30 years old. It looked fantastic. They lived and breathed their philosophy that the cowshed was the place where they produce the finest quality milk that goes onto supply food for the rest of the world" says Neil.
The Delos Santos, both aged 33 years, are originally from the Philippines and began farming in New Zealand in 2001, progressing through the industry from farm assistant to their current sharemilking position, which they have held since 2015. They won $24,000 in cash and prizes.
Taranaki 50% sharemilkers Dion and Johanna Bishell, aged 42 and 36, placed third in the competition, winning $13,000 in prizes. The Bishells also won merit awards in Honda Farm Safety and Health, the Meridian Energy Farm Environment Award, and the Westpac Business Performance Award.
The judges noted they had outstanding policies and procedures right across their whole farm operation.
Dairy manager head judge Richard Kyte from DairyNZ says the high calibre of the Dairy Manager finalists made judging difficult.
"You could throw a blanket over the top six or seven, the marks were so close."
The New Zealand Dairy Industry Awards are supported by national sponsors Westpac, DairyNZ, DeLaval, Ecolab, Federated Farmers, Fonterra Farm Source, Honda Motorcycles, LIC, Meridian Energy, and Ravensdown, along with industry partner Primary ITO.
Keep up to date in the industry by signing up to Farm Trader's free newsletter or liking us on Facebook