Farmers facing less stress from banks, survey reveals
---
As per the survey conducted by Federated Farmers, NZ farmers are reportedly facing less pressure as compared to last year
Federated Farmers' latest banking survey shows that farmers in New Zealand are facing less pressure due to the improved farming outlook.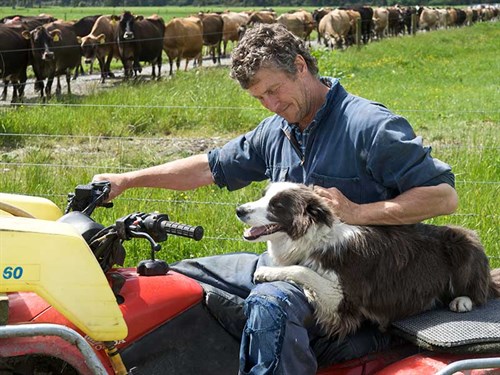 According to the survey undertaken in May by Research First, 8.5% of the farmers reported of facing undue pressure from their bank over the past six months, as compared to the 9.6% found in the last survey conducted in November 2016.
Ten percent of dairy farmers reported undue pressure, down from 12.8% since last year. Sharemilkers saw a drop from 15% to 10%.
Among non-dairy farmers, 6.9% of non-dairy farmers reported undue pressure, down from 8.2%.
"The easing of pressure could be thanks to an improved farming outlook on the back of higher commodity prices since the middle of last year, most dramatically for dairy but also for meat," Andrew Hoggard, Federated Farmers' national vice president, says.
While the average mortgage interest rate for respondents didn't change (5.2%), the average overdraft interest rate was down from 7.7% in November 2016 to 7.3% in May 2017.
In terms of bank relationships, 80.7% of farmers reported being very satisfied or satisfied while sharemilkers had the lowest level of satisfaction at 69.5%.
With regards to communication with banks, the satisfaction level dipped with 75.9% compared to the 77.2% in November saying that it was excellent or good.
66.7% of farmers ended the 2016–17 season with a detailed and up-to-date budget for that season. 39.3% had both a current-season budget and a detailed up-to-date budget for the upcoming 2017–18 season.
"Dairy farmers and farmers with mortgages are much more likely to have detailed and up-to-date budgets. This shouldn't be a surprise given that dairy farmers have significantly higher debt levels than other farmers, making robust budgeting much more pressing," Andrew said.
Welcoming the survey results, the New Zealand Bankers Association's chief executive, Karen Scott-Howman, says,  "The consistently high bank satisfaction rating among farmers reflects the fact that banks are continuing to work closely with their agri clients.
It also shows the importance of effective communication between farmers and their banks, and the need to have budgets in place, especially for those managing higher debt."
Source: Federated Farmers
Keep up to date in the industry by signing up to Farm Trader's free newsletter or liking us on Facebook