Find info on Healthy Rivers Wai Ora Fieldays 2017
---
Proposed Waikato Regional Plan urges Landowners in Waipā and Waikato river catchments to visit Fielddays to understand what is on the table
10,000 landowners will receive Waikota Regional Council's brochure outlining key components of the The Healthy Rivers/Wai Ora: Proposed Waikato Regional Plan Change, and what landowners can be thinking about now to ensure they're well placed when final decisions are anticipated to be made next year.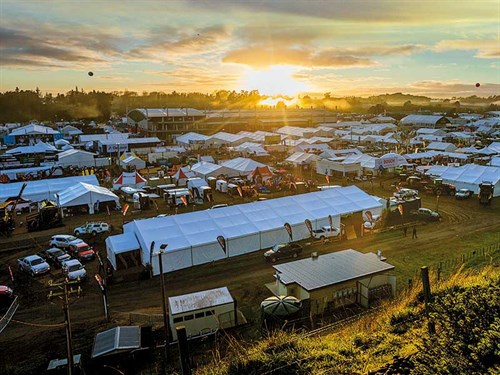 A nitrogen reference point (NRP) or complete registration of their property with the council needs to be undertaken by landowners, even though the proposed plan still has a hearings process to go through.
Chief executive, Vaughan Payne, says that throughout the hearings process, plans might change. Landowners are encouraged to be well placed when the final decisions are made and that means they need to understand what is currently proposed, the information they might need to provide, and the work they will need to carry out.
"Come and see us at Fieldays and talk through any questions you may have about Healthy Rivers/Wai Ora. We're here to help and Fieldays is the perfect opportunity for you to see us," Vaughan says.
He added that the council was working with industry and sector organisations to identify areas of the plan that could be improved.
He says when plans are first notified, they are never perfect, but through the submission process, he wishes a plan is achieved that is workable for landowners and reaches aspired water quality goals.
Key component that landowners need to be more responsive to due to the proposed plan include:
All properties in the Waikato and Waipā river catchments over two hectares need registration by 31 March 2019. Small block holders, lifestyle property owners or even equine businesses may also be affected who still may not be aware of what's proposed.
A nitrogen reference point (NRP)  provided by 31 March 2019. More than 20 hectares and commercial vegetable growers will most likely be affected. The cost of preparing this information could be reduced if landowners keep good records now.
A farm environment plan (FEP) needs to be created, which will affect most properties farming more than 20 hectares. FEPs are tailored to identify and manage the four key contaminants—nitrogen, phosphorus, sediment, and bacteria—on the property, setting out specific timeframes for work to be done. Under the proposed plan, the first FEPs will be due by 1 July 2020. Landowners can start thinking about work on their property now by using the Farm Menus.
The council is preparing for landowners' job to be easier through the annual plan and long-term plan process. The council is investing $2.74 million over the next 12 months to:
Working with industry and sectors to help landowners understand FEP requirements
Approval, certification, and audit systems for industry schemes and rural professionals
Preparing to process and monitor resource consent applications
Building IT systems to support landowners to lodge their registration, NRPs, and FEPs
Developing environmental monitoring and reporting tools to track our progress
Keep up to date in the industry by signing up to Farm Trader's free newsletter or liking us on Facebook