Nominations open for 2017 Rabobank Leadership Awards
---
Nominations for two highly-sought industry awards are now open in New Zealand
Nominations are now open for the 2017 Rabobank Leadership Awards that recognise exceptional leadership seen among established and up-and-coming leaders in food, beverage, and agribusiness industries in New Zealand and Australia.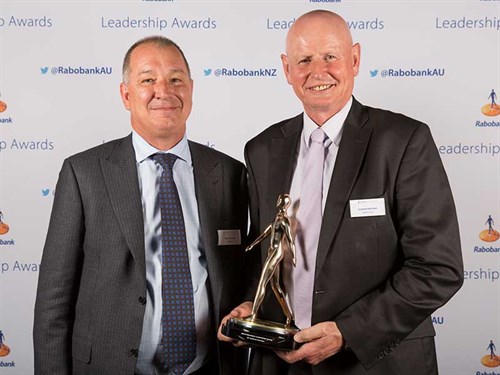 The two awards—the Rabobank Leadership Award and the Rabobank Emerging Leader—are presented annually to two leaders from the industry who have contributed to the critical success of the food and agribusiness sector.
The Rabobank Leadership Award, which was introduced 12 years ago, is awarded to an individual who has had an expansive career in management and leadership in agridbusiness and who has played an important part in leading growth and success of the business. In 2016, Sir Graeme Harrison, founder and chair of ANZCO was presented with this award. Other recipients of this award include former chair of Fonterra, Sir Henry van der Heyden, and Villa Maria Estate founder, Sir George Fistonich.
In 2013, the Rabobank Emerging Leader Award was introduced to recognise the contribution of an individual demonstrating a strong leadership potential. In 2016, Jan Vydra, entrepreneur and co-founder of Australian Fresh Leaf Herbs, as presented with this award.
Rabobank New Zealand CEO, Daryl Johnson, called for New Zealanders involved in agricultural and agribusiness to nominate indivduals they think have made or are making a substantial contribution as leaders.
"Agriculture and agribusiness are major contributors to New Zealand's economy and way of life, and form such an important part of our export economy. These awards provide a rare opportunity to recognise the individuals who have played and are playing an instrumental role in the growth and prosperity of this very important sector, both now and into the future," he says.
Keep up to date in the industry by signing up to Farm Trader's free newsletter or liking us on Facebook