Ravensdown's PGP programme helps primary sector
---
Fertiliser application made more efficient and sustainable through Ravensdown's PGP programme trialed in Tautane's research initiative
Aerial soil testing technology and GPS-driven automated variable rate spreading is being developed by the Ravensdown Primary Growth Partnership (PGP) Pioneering to Precision programme.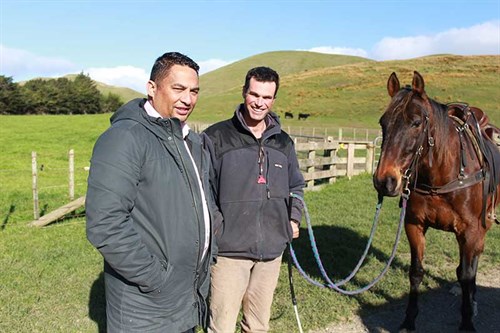 A map sent wirelessly to the planes memory will tell it which areas and blocks should have fertiliser applied. The fertiliser flow is cut off by the computer-controlled hopper doors when over areas that should not be applied, and opens where the map tells it to be released.
All those involved are excited about the possibilities after a recent field trial of the very promising variable-rate proof of placement map happened at Tautane by the Ravensdown's PGP programme.
Tautane hill country station on the east coast of the North Island boasts 3374-hectares owned by Ngāti Kahungunu. Taratahi, the iwi in partnership with New Zealand's largest agricultural training centre, signed on to the co-operative's research farm network in 2014.
Ngāhiwi Toamona, the Ngāti Kahungunu leader, says Ravensdown's PGP technology align with some of their important cultural values. He says they want to be like their ancestor Kahungunu, who was an innovator and forward thinker.
They wish to be more sustainable, and through the Ravensdown's PGP programme they want to put Māori back into the forefront of farming and innovation.
Huge benefits for hill country farming will come from the Ravensdown's PGP programme, Matt Smith, Taratahi farm manager says.
Matt says this technology will have a huge beneficial impact on environmental sustainability, reallocating super nitrogen mix fertiliser away from sensitive areas and waterways to other parts of the farm, which in the first application reallocated 347 hectares.
The sensor's ability to aerial soil test down to the square metre and variable rate spread to 40 square metres with proof of placement, will transform hill country farming, Matt says.
He says that although it may cost a little bit more, the impact this has on productivity and sustainability is massive.
Knowing full proof that fertiliser will not be put on sensitive areas or waterways will limit the environmental impact and be economically more efficient.
"Ravensdown's PGP programme is part of our ambition to take over all our land and show we can farm profitably and sustainably for future generations, whilst putting our cultural spin on modern-day farming," Ngāhiwi says.
Keep up to date in the industry by signing up to Farm Trader's free newsletter or liking us on Facebook