Milk Urea Nitrogen (MUN) breeding values soon available
---
Dairy farmers herd testing and herd recording with CRV Ambreed will soon receive their Milk Urea Nitrogen (MUN) breeding values
CRV Ambreed managing director, Angus Haslett, says the additional information will be welcomed by farmers wanting to use LowN Sires™, CRV's low-MUN bulls.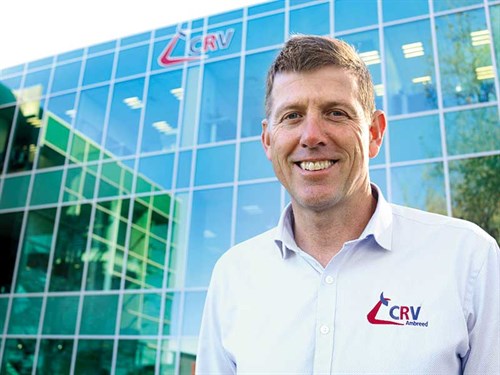 The dairy herd improvement company made an announcement in late March about its genetic discovery, which it anticipates, could reduce nitrogen leaching on New Zealand farms by 20% within 20 years and result in a more sustainable dairy industry.
In what's thought to be an international first, CRV Ambreed is marketing bulls that are desirable for traditional traits as well as being genetically superior for the new MUN trait
that is related to the amount of urea nitrogen in milk.
The company is now selling semen from bulls under the LowN Sires brand whose daughters will have reduced concentration of MUN – a measure of the amount of nitrogen contained as milk urea.
CRV Ambreed says there's overwhelming international evidence of a direct connection between MUN and the amount of nitrogen excreted in urine when cows are fed different diets.
During Fieldays®, CRV Ambreed showed farmers the reports they can expect if they herd test and herd record with the company.
The reports will provide the current MUN breeding values for the herd as a whole, helping ensure farmers are on track with their breeding direction if they have chosen a lower nitrogen approach.
Angus says MUN BVs should be tracked like any other trait as part of a strategic breeding direction and good herd management.
"Many farmers wanting to make a difference environmentally will be able to use this tool to ensure they are tracking in the right direction by producing lower MUN cows and therefore reducing nitrogen output."
Results are also provided for individual cows so farmers can calculate what might be achieved by using the more than 20 high performing bulls from the LowN Sires team.
CRV Ambreed IT/IM manager, Andrew Singers, says CRV's herd testing and herd recording services are well-established and there are several options available to dairy farmers. 
Farmers wishing to start herd testing and recording with CRV Ambreed to obtain MUN breeding values can discuss with their local CRV Ambreed field consultant.
"We are unique in that we have fully-trained technicians attend every herd test to set up meters, record volumes, and take samples, which ensures the accuracy of data collected. We also provide farmers with a full herd test report (electronically) as soon as the results have been analysed.
"Our CRV InSight herd recording service is also easy and convenient to access," Andrew says.
"The reports can be filtered and sorted really easily and will provide farmers with information that might be useful in decisions around AI, culling, or retention of progeny."
For many years, dairy farmers have used genetic selection to breed cows for particular traits and that are tolerant to health issues, and Andrew says it's exciting they can now breed to help the environment.
"We're proud to now be offering the LowN Sires team as a significant tool in the toolbox to potentially provide more environmentally sustainable dairy farming in New Zealand. Every bit that we can do together counts."
Keep up to date in the industry by signing up to Farm Trader's free newsletter or liking us on Facebook