StocksAG applicators now working with ISOBUS terminal tractors
---
The ISOBUS terminals in tractors can control rotary feed mechanisms used by StocksAG applicators from January 2017 onwards
StocksAG produce a range a 12 volt powered application machinery. Turbo Jet pneumatic are the seeders, and Micro Meter gravity used for OSR, grass cover crops. Granular applicators such as Rotor Meter and Maxi Meter used for micro and full sized fertiliser and slug pellet broadcasters such as Fan Jet Mini, Pro Plus, Twin Plus and Duo Plus.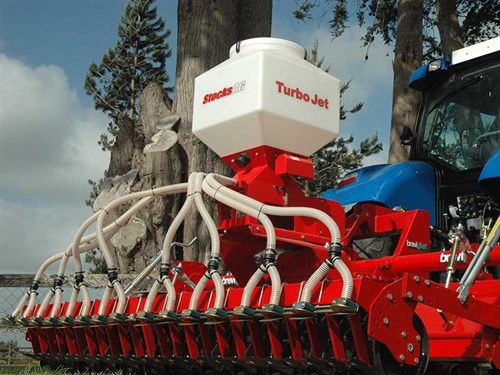 An electric motor and RDS control system power these machines, who share the same rotary feed mechanism.
The RDS is designed to be used as a stand-alone system for each machine, incorporating an i-CON colour touchscreen GPS based, speed proportionate, and precision farming able control.
ISOBUS are now compatible with these machines, and are controllable by the operators tractors with in-cab control terminals.
All that needs to be done is plugging the tractor system and the terminal will be loaded with information from the StocksAG machine to be controlled in the tractor, using speed input from the tractor as well.
There is less need to clutter the cab as operators can use their familiar control. Multiple tractors can be equipped with ISOBUS to control the StocksAG machines and of course precision farming variable rate application from field maps, with automatic switching On and OFF at headlands is now possible.
Keep up to date in the industry by signing up to Farm Trader's free newsletter or liking us on Facebook