Taege's Power Discs win Fieldays Prototype Award
---
New Zealand's Taege Engineering has its best year for recognition after winning 2017 Fieldays Established Prototype Award
The South Island-based business has long been a part of the country's farming landscape, with its range of specialised seed drills, cultivators, rollers, and custom builds.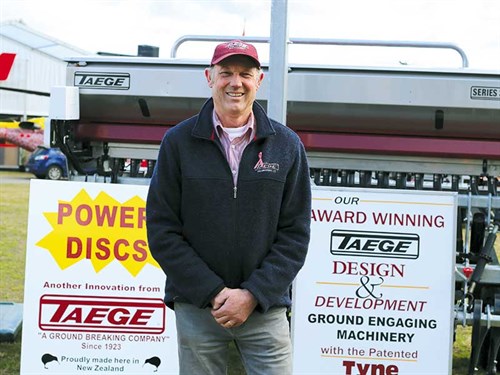 "We've always been innovators," owner Keith Taege says.
The winning Taege's Power Disc at NZ Agricultural Fieldays comes hot on the heels of winning the Agri-Innovation Award at the South Island Agricultural Field Days earlier this year.
"The rotating discs result in superior tilling of the ground prior to drilling or planting, saving time and effort when the ground is unsuitable for traditional discing," Keith says.
What's special about the power discs
The standout feature on Taege's award-winning power discs is the fact the discs are on arms attached to the drawbar. The arms pivot up and down to give depth control and with no more than six discs per shaft, this ensures they always follow the contours, which discs on a solid beam cannot do.
"Hydraulics lift the discs out of the way when they are not needed or when you shift to transport mode.
"The discs are the bees' knees for precision drills," Keith says. "They can be custom-made to fit any drill up to 6m and it's likely in the future that they will go bigger.
"With the power discs on the front of a precision drill, they will eat up any trash and create a fine tilth for the placement of the seed. They cut down the amount of cultivation required, so farmers can leave more trash and add more carbon into the soil."
Keith says tilth creates the best start for seedlings. "The discs create perfect conditions for establishing fodder beet because they are creating tilth where the seeds go, but do not disturb the sprayed-out grass around tvhem, which stabilises the soil against erosion and provides a windbreak for the emerging seedling."
Taege is no stranger to innovation, having developed its patented angle-mounted vibrating tyne and tungsten-faced tip system, used on its range of ground engaging machines.
Keep up to date in the industry by signing up to Farm Trader's free newsletter or liking us on Facebook