NZ-developed Penethaject formulation a world first to treat mastitis in dairy cows
---
Penethaject RTU is a new and unique antibiotic formulation that requires no pre-mixing and helps in effectively treating mastitis in dairy cows
Penethaject™ RTU (ready to use)—a new antibiotic formulation to treat mastitis is now available for New Zealand dairy farmers after seven years of development and registration process.
The pre-formulated version (it requires no pre-mixing) is a world first in the industry.
Currently, mastitis affects 10 to 20% of New Zealand's five million dairy cows every year and the launch of Penthaject RTU will make it easier to treat clinical mastitis according to Bayer dairy veterinarian Dr Ray Castle.
"The active ingredient of Penethaject RTU, known as Penethamate, previously came in powder form and had to be mixed together with a liquid by the farmer or veterinarian to create an injectable solution.
"Developing a pre-formulated version had been a scientific challenge for many years until scientists in Bayer New Zealand's laboratories worked with Otago University to create a stable formulation, something that had never been achieved before."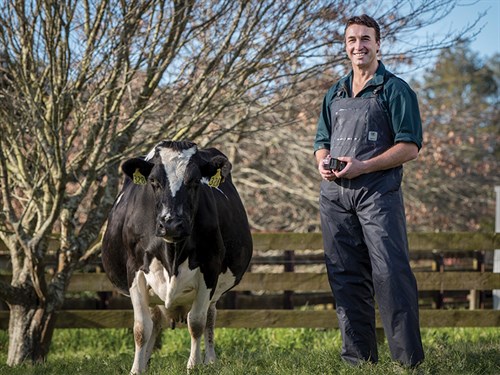 He adds that the challenge was to create a liquid formulation, as Penethamate is stable long term as a powder but not as a liquid. To ensure that the active ingredient remained stable without being formed into clumps, Bayer worked with Otago University to find a solution by adding different ingredients to stabilise the formulation.
"The whole process, including clinical trials, stability testing, registration, and commercial manufacturing took about seven years to bring to fruition, so naturally we are delighted that Penethaject RTU is now available to farmers. It's a world first and something that confirms New Zealand's position as a leader in dairy science," Dr Castle says.
He adds that the antibiotic concentrations that build up in a cow's udder are 10 times higher than those achieved by other penicillin formulations. The antibiotics work directly on the mastitis bacterial, and once treated, it leaves the milk, thus allowing the cows to be back in milk production.
Penethaject RTU is a restricted veterinary medicine, and is only available under veterinary authorisation.
How to identify mastitis in dairy cows
Dr Castle says that as farmers head into the milking season, they need to be on alert. Some of the clinical signs of mastitis include:
Changes in the colour and consistency of the milk, and/or
Redness
Heat
Swelling in the udder
Keep up to date in the industry by signing up to Farm Trader's free newsletter or liking us on Facebook