Using science and technology to improve water quality
---
Horticulture NZ discuss how money injected straight into science and technology projects could leave the environment better off than implementing taxes
Mike Chapman, Horticulture New Zealand chief executive, says using science and technology to inform sustainable farming practices and reduce adverse environmental impacts will have better outcomes than taxes will.
Reacting to a National Party announcement that it will invest $20 million in what was the Sustainable Farming Fund and is now the Future of Farming Fund, Mike Chapsan says that this will do more than an arbitrary water tax..
Don't Muddy the Water is a Sustainable Farming Fund project that has become a win for the environment and for farmers and growers, as it aims to keep soil in the paddock and out of the waterways, says Mike.
"This research will quantify the effectiveness of sediment control on cultivated land and is an example of working proactively with regional councils.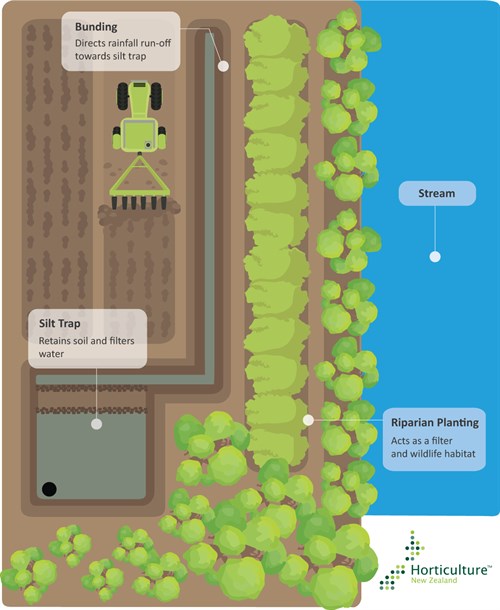 "This property is also part of a three-year Freshwater Improvement Fund project: Protecting our Groundwater - Measuring and Managing Diffuse Nutrient Losses from Cropping Systems.
Mike says horticulture growers are aware that Environmental sustainability is paramount as it relates to freshwater. Projects would give really useful information to target on-farm management practices to meet environmental expectations. He says hHorticulture is looking for growers to minimise their environmental footprint, and by giving them the tools and help with long-term robust data and science, this could happen.
Mike says environmental impact information from food supply chains are increasingly demanded by food consumer's world-wide. He says working with growers who are mainly intergenerational family businesses with a lot of knowledge of the environment and cropping systems, would have a more positive impact on reaching government targets than punishing them with taxes unrelated to good environmental outcomes.
Horticulture New Zealand supports sound, consistent water policy to support efficient use of water and we have issued our own such policy (available here).
Keep up to date in the industry by signing up to Farm Trader's free newsletter or liking us on Facebook