Entries for Irrigation NZ's Innovation in Irrigation Award open
---
Entries for Irrigation NZ's Innovation in Irrigation Award is now open and will close at the end of October 2017
Farms and businesses with new products, technologies, or practices that exemplify innovation in irrigation are being encouraged to enter IrrigationNZ's 'Innovation in Irrigation Award', sponsored by Southern Wide Real Estate.
The highly prestigious award promotes innovation in irrigation and has a $2500 cash prize. Entries for the award are now open and close at the end of October. The entry process is simple and requires only a short application be completed.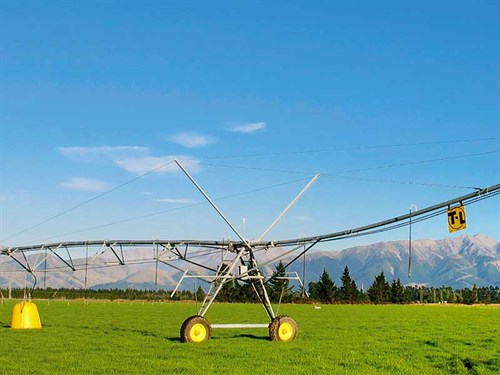 "Previous finalists and winners have benefitted from the exposure and profiling that follows, and we want more innovative individuals and businesses to experience these opportunities" Chris Coughlan, business manager at IrrigationNZ, says.
"The brief for the 'Innovation in Irrigation Award' is very broad with a focus on recognising innovation in the irrigation sector. The awards will recognise ordinary people and businesses doing new and extraordinary things. This could range from innovative practice or behaviour, a new product or technology, or innovative community thinking around irrigation," Chris says.
Presented every two years at IrrigationNZ's biennial Conference and Expo, the winner in 2016 was Carrfields for its innovative irrigator stabiliser.
The HydroFix Irrigator Stabiliser System consists of a series of inflatable water tanks connected to a pulley and counterweight systems along the length of an irrigator. During strong winds, the turn of a tap fills the tanks with water and lowers them to the ground to secure the irrigator at the centre of each span. When the wind danger has passed, the water tanks can simply be drained, and after this, they will raise themselves to a ready to activate storage position in two stages, requiring minimal effort from the operator.
The independent judging panel says Carrfields' HydroFix system was chosen because it held wide application for New Zealand's irrigation market and was the result of solid research involving several parties.
Other highly commended entries in 2016 were Next Farm's smart control systems for grid irrigation, Lindsay Corporation's new pivot control, and Central Plains Water Ltd for its environmental innovations and management of its stage one development.
"We would encourage you to get in touch with us if you have an innovation, discovery, or achievement we should know about or to nominate someone else. There's a lot of diversity in the irrigation sector, and we are excited to be able to highlight this through this award at our national conference in Central Otago in March 2018," Chris says.
"In today's environment, it is even more important to promote the good work being done on farms, orchards, vineyards, and in our industry. We know there are lots more examples of innovation in irrigation out there, and we encourage people to come forward and share their stories through this award."
Key dates and award information can be found at irrigationnz.co.nz.
Keep up to date in the industry by signing up to Farm Trader's free newsletter or liking us on Facebook