New app to help farmers protect the environment
---
Farmers have a new tool to help them identify opportunities on the farm to get even better environmental results
DairyNZ has developed an app, called EnviroWalk, to make it easier for farmers to assess their fertiliser use, effluent, waterways, races, cropping, water use, and irrigation, and create an action plan on their smartphone.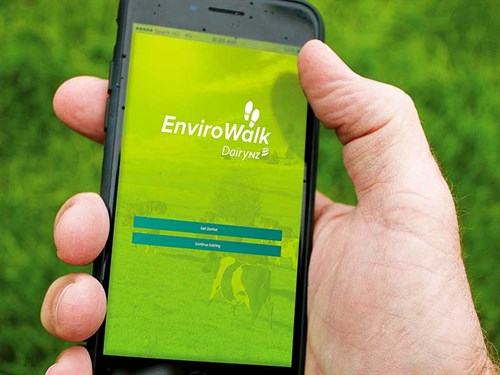 About 1500 farmers have already downloaded the free app since it was launched in July.
DairyNZ Lower North Island catchment engagement leader, Adam Duker, who led the development of the app, says farmers are always looking for ways to improve their environment and we wanted to make it as easy as possible for them.
"The app allows them to have all the information they need at their fingertips." He says the app has a series of yes/no questions to help farmers identify areas on their farm that have opportunities to do things differently and get better environmental outcomes.
Depending on the answers to the questions, the app suggests solutions or actions. These form the basis of the action plan, which can be downloaded, printed, and updated at any time.  
"An added benefit is that once the app is downloaded, it can be used with no internet connection and accessed anywhere on-farm. We knew it would be successful because farmers helped us build the app and were part of its development."
Otago dairy farmer John Den Baars piloted the app on his Milton dairy farm. He says the app helps take the guesswork out of assessing a farm's environmental impact. 
"The EnviroWalk app is all things environmental for your farm in one place. It is user-friendly and a great tool for training the younger generation. I know the young staff I work with would rather do it on their phone than on a bit of paper, and it's certainly faster than working out a plan the hard way."
The app is one of the three apps that DairyNZ has developed to help farmers. The others are the Dairy Effluent Storage Calculator and BCS Tracker App. About 11,700 farmers around the country have downloaded the apps.
The EnviroWalk App can be downloaded on any device via the DairyNZ website, Apple App Store, or Android Google Play Store.
Keep up to date in the industry by signing up to Farm Trader's free newsletter or liking us on Facebook