Science and innovation key to farmings future
---
Sustainability and scientific innovation is high on the agenda of Waikato dairy farmer Grant Coombes.
As a candidate for the DairyNZ board of directors, Grant says it's time for farmers to embrace new technology and innovation as a way forward to tackle issues such as environmental sustainability.
Grant, a father of four children, lives at Taupiri in the North Waikato. He runs a
large-scale farming business with 2000 milking cows, plus dairy support and dry stock cattle, over some 750 hectares.
Like many younger farmers, he's open to trying something new on the farm.
He's in the process of phasing out his fleet of quad bikes for new electric motorbikes.
"I've got seven Ubco2x2 electric bikes, and they are great," Grant says.
"They are quiet and easy to operate. I'm passionate about sustainable farming and reducing emissions, so this is one way we can do that in our farm business." Grant first heard about the Ubco bikes at New Zealand Agricultural Fieldays® two years ago. "I've always been interested in innovation, so these caught my eye."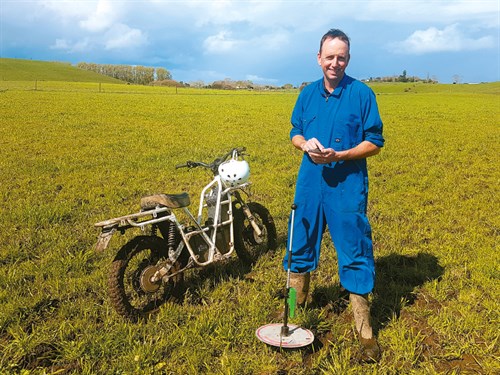 He says farmers he knows are committed to reducing their environmental footprint and to mitigating nitrogen leaching through riparian planting and fencing waterways and wetlands.
"Farmers across the country have invested a lot of time, effort, and money to improve sustainability and protect the environment," Grant says.
"They often get a hard time from their city cousins, but I think we should congratulate farmers for their efforts there."
However, with regulatory and political pressures continuing to make demands on farmers, Grant believes that new science and technology will be vital to many farmers.
"Farmers are working hard on sustainability and improving the health of waterways, and there are still new things that can be done," he says. "These days, we are 'farming in a fish bowl' and that means that the wider community in New Zealand is looking at farming and so too is the international community and our export markets. So it's about continuing to look at new ways to improve sustainability on the farm.
"New scientific developments and technology hold the key, and farmers can take heart in some of the innovative, ground-breaking discoveries happening in New Zealand."
Grant says many farmers are already embracing science and technology, and he would like to see that continue.
"Mobile-based apps help farmers better manage their farms," he says. "We are so busy, so any apps or agri-tech products that can help farmers save time have got to be a good thing. I'd love to see more farmers embracing systems that make life easier."
Keep up to date in the industry by signing up to Farm Trader's free newsletter or liking us on Facebook