NZ avocado research goes international
---
Sir Don Llewellyn Scholarship recipient takes her research on the virus affecting avocados orchards to the US for further testing
Kiwis love their avocados, but none more so than New Zealand National Fieldays Society scholarship winner, Shannon Hunter.
Awarded the $22,000 Sir Don Llewellyn Scholarship earlier this year, Shannon is travelling to America to further her research. The scholarship is awarded yearly to a student undertaking research with a focus on advancing the agricultural sector.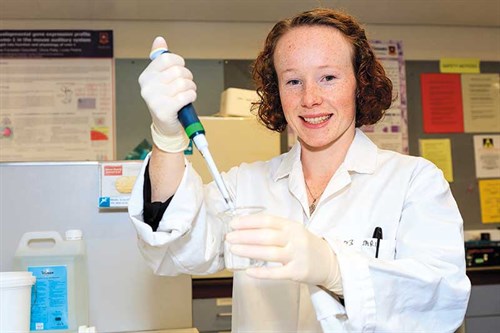 The funds have assisted Shannon's research to establish whether the virus that causes root rot in New Zealand avocado orchards is developing resistance to phosphite, which is commonly used to treat dieback.
The research is the first of its kind in New Zealand and was prompted by studies in Australia and South Africa that indicated some strains of the soil-borne mould that leads to root rot, Phytophthora cinnamomi, had increased resistance to the fungicidal treatment.
Shannon has developed a method of testing soil samples from New Zealand orchards using an optical density plate scanner. This method allows her to save time and resources in her research.
She will apply this same method to other strains of Phytophthora cinnamomi from avocado orchards in the United States during her trip to the University of California campuses in Berkeley and Riverside this month.
Shannon hopes that her research will spark further research into fungicide resistance. "I think studying diseases of horticultural crops, such as avocado, has an increasing importance, as we face population increases and, therefore, increased food demands alongside the impacts of climate change," Shannon says.
The Sir Don Llewellyn Scholarship is awarded annually by the New Zealand National Fieldays Society in honour of Fieldays' founding member, Sir Don Llewellyn.
Each year, the New Zealand National Fieldays Society's annual donations, scholarships, grants, and support total more than $100,000.
"Sir Don Llewellyn's visionary leadership founded Fieldays almost 50 years ago, and the society takes great pride in offering this scholarship to support the education of our industry's future leaders," New Zealand National Fieldays Society president, Peter Carr, says.
Applications for the 2018 Sir Don Llewellyn Scholarship will open in early 2018.
Click here for more industry news and updates
Keep up to date in the industry by signing up to Farm Trader's free newsletter or liking us on Facebook