University of Waikato students share water sciences prize
---
Celeste Davies-Calway and Kate Rogers, two University of Waikato students, share this year's water sciences prize
Two University of Waikato students will split this year's water sciences prize that is awarded annually to the top student enrolled in water science papers within the School of Science (Faculty of Science and Engineering), in Level III courses.
Waikato Regional Council chair Alan Livingston presented the prize ($500 book vouchers) to Celeste and Kate this week.
It's believed to be the first time the prize has been awarded to two people since being established in 1990 by Sir Ross Jansen with the University of Waikato Earth Sciences Department.
"It's a privilege to present this prize to two students who have shown outstanding ability in an area of work that is very topical and dear to the hearts of councillors and our communities," Alan says.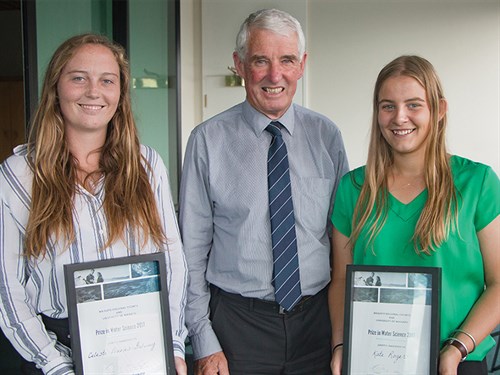 Professor Earl Bardsley, the university's senior academic in hydrology, says, "Last year was a bit unusual in that there were two outstanding students involved with identical levels of achievement in water resource studies – it was just not possible to separate them."
Last year, Celeste Davies-Calway completed a Bachelor of Science, double majoring in Environmental and Earth Sciences. She's returning to university this year to begin study towards a Masters of Earth Science, focusing on coastal science. 
She has worked for the council the past two summers, completing a coastal structures survey last summer and doing coastal water quality sampling and helping with the Regional Estuary Monitoring programme this summer.
Her passion for the environment started at a young age as she lived at Tuateawa on the Coromandel Peninsula till she was five, surrounded by beautiful beaches and native bush. She moved with her family to Katikati, where she went to primary school and college.
Kate Rogers is Hawke's Bay born and bred with extended family in Te Pahu. Last October, she completed her Bachelor of Science degree, double majoring in Environmental and Biological Sciences.
"I really enjoyed aspects of water quality, oceanography and ecology in particular throughout my three years of study," she says. "I've been employed by Auckland Council as a monitoring and research student over the summer season, and this has exposed me to marine and freshwater quality and ecology monitoring programmes as well as forest plotting, fish surveys and more.
"I'm a strong advocate for the environment and love spending time outdoors, from camping at the beach to exploring forests and mountains."  
Read more industry news on Farm Trader.
Keep up to date in the industry by signing up to Farm Trader's free newsletter or liking us on Facebook