Leaders gather in Wellington to celebrate 50 years of Fieldays
---
Government and agricultural leaders gathered in Wellington to celebrate 50 years of New Zealand Agricultural Fieldays
On 15 March, government and agricultural leaders gathered at the parliament to mark the 50th anniversary of New Zealand Agricultural Fieldays®.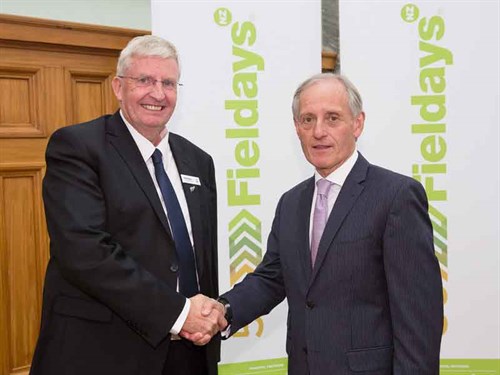 Fieldays, which is recognised as the largest agricultural event in the Southern Hemisphere, was first held in Hamilton in 1969, and 50 years later, the event will take place once again at Mystery Creek in Hamilton from 13 to 16 June 2018. In a speech at the celebrations, New Zealand National Fieldays CEO Peter Nation said it was an honour to be hosted at Parliament's Grand Hall.
"Parliament is the powerhouse of New Zealand, and the opportunity to have our 50th anniversary launch event there indicates the significance of Fieldays to the country," he said.
"Fieldays is important to New Zealand's primary industries. For 50 years, we've been bringing urban and rural communities together and working to advance agriculture through technology, education, innovation, and internationalisation."
The gathering saw the New Zealand National Fieldays Society board and its president Peter Carr along with representatives from top New Zealand agricultural organisations and businesses. A large group of MPs as well as senior officials from Ministry of Primary Industries and Callaghan Innovation
The theme for the 50th Fieldays is 'the future of farming', and the event will focus on agricultural trends and ideas, with the aim of starting a discussion on what farming's future will look like for New Zealand. The four-day event saw a record 133,588 visitors last year, 998 exhibitors, and delegates from more than 40 countries.
Apart from the exhibitors on display, Fieldays feature an Innovations Centre, Careers and Education programme and live-action kitchen theatre, as well as a Health and Wellbeing Hub on the 114-hectare site at Mystery Creek, 10 minutes from Hamilton. Competitions during the event include the ever-popular Tractor Pull and the now revamped Rural Bachelor competition—now named Rural Catch and featuring both female and male competitors.
And it's not just about farming this year. The 50th anniversary event will also see different events across the Hamilton city. You can check out the entries in the No. 8 Wire National Art Awards at ArtsPost in Hamilton and a 50th Fieldays-themed exhibition at Waikato Museum.
Keep up to date in the industry by signing up to Farm Trader's free newsletter or liking us on Facebook