Wintec students receive Fieldays Society's Baldwin scholarships
---
Kimberley Snook and Jamie Hodge are the 2018 recipients of Fieldays Society's Baldwin scholarships
Two third-year students received the New Zealand National Fieldays Society's yearly scholarships at a ceremony held at Wintec.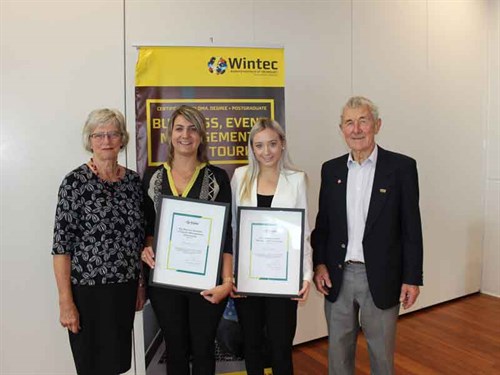 Recipients Jamie Hodge and Kimberley Snook, who received the Dough Baldwin Event Management Scholarship and the Kaye Baldwin Bachelor of Applied Management Scholarship respectively, will also participate in hands-on experience at the Fieldays Society's headquarters.
 "This is a once-in-a-lifetime opportunity in the events industry," Jamie says. "I've always had a passion for events and it doesn't get much bigger than Fieldays, so this is a really exciting opportunity."
Talking about her scholarship, Kaye, who is a third-year accounting student, says, "The scholarship will enable me to apply the theory I am studying in a practical environment and real-life situations.
"I am looking forward to learning about the systems and the integrations the finance team are implementing and how they contribute to the overall organisation".
Fieldays Society chief executive Peter Nation said the scholarships are about recognising and supporting young people coming into the event industry. "We are delighted to be able to support these scholarships which have an overall value of $10,000 each in both cash, in kind and work experience. We are also delighted to be able to name these scholarships after two long-serving life members recognising the enormous dedication of namesakes Doug and Kaye."
Doug and Kaye, who the awards are named after, are life members of the Fieldays Society and have been involved in the event since it first began in 1969.  Both were present at the ceremony to pass on their congratulations to the recipients.
For more information on the Society's scholarships, visit nznfs.co.nz. 
Keep up to date in the industry by signing up to Farm Trader's free newsletter or liking us on Facebook