2018 West Coast-Top of the South Dairy Industry Awards winners
---
A Hokitika couple are major winners in the West Coast-Top of the South Dairy Industry Awards
On 27 March, Carl Wilmshurt and Anna Boulton were announced winners of the region's Share Farmer of the Year competition at the West Coast-Top of the South Industry Awards annual awards dinner held in Nelson. The South Dairy Manager of the Year award went to Anthony Lamborn and Sam Goffriller took away the South Dairy Trainee of the Year
Carl and Anna, both aged 27, are contract milking 390 cows on Bryan and Brigitte Wilmshurst 160-hectare farm in Kowhitirangi, Hokitika. The couple, who were the 2017 runners-up, won $5,750 in prizes.
"Entering the awards makes you do a thorough analysis of your own operation and learn new way of doing things, or ways to improve performance," the couple says.
Carl, who holds a Bachelor of Commerce, Accounting, says, "My accounting background enables me to do a cost versus benefit analysis on opportunities. By selecting the most profitable option we are increasing the performance of our business." Anna holds a degree in Sport and Recreation Management.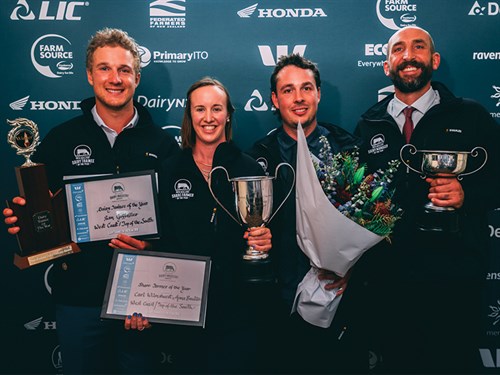 Ethan and Jessica Liddel were the runners-up and won $2300 in prizes. The couple are 21% sharemilkers on a 210-hectare property.
Third place went to Michael and Cheryl Shearer, who won $1750 in prizes.
They are 50:50 sharemilkers on David and Pauline Marshall's 160-hectare farm at Brightwater, where they milk 410 cows.   
West Coast-Top of the South Dairy Manager of the Year

Anthony Lamborn, who took away the 2018 West Coast-Top of the South Dairy Manager of the Year competition, has been in the dairy industry for 25 years. He won $4550 in prizes. He is the farm manager for the Birchlea Trust 255-hectare, 700-cow farm at Kikiwa in Nelson.
 "As a teen I tried my hand at city work, but my life always pulled me back to what I loved – cows," he says.  "I met my wife on a dairy farm, and it seems a bit silly to move away from what is good."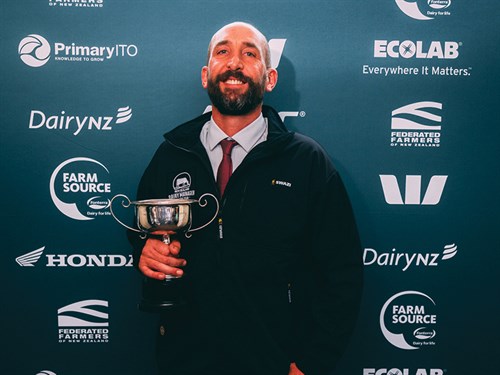 Anthony says dairy farming isn't just a job, it's a lifestyle he gets to share with his wife Rachel and their children.  "It's about the joy my cows bring me and the industry that just keeps growing."
Second place went to first-time entrant and Westport farm manager George King, aged 33 years, , winning $2,000 in prizes.
Westport farm manager Nico Boshoff was placed third and won $1400 in prizes.
West Coast-Top of the South Dairy Trainee of the Year
Sam Goffriller a 22-year-old farm assistant, won the South Dairy Trainee of the Year and was awarded $5180 in prizes.
"I enjoy working as part of a team, love working with animals and enjoy the work/life balance farming can offer," Sam says. "I've become a dairy farmer as I enjoy what comes with the job as a whole package and lifestyle."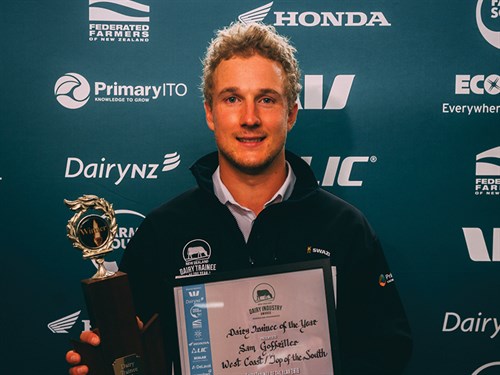 Matariki farm assistant Tim Green was the runner-up, while Luke Chisnall was placed third.
Keep up to date in the industry by signing up to Farm Trader's free newsletter or liking us on Facebook