Fieldays inspiration: the story behind Revolutionary Beekeeping
---
Revolutionary Beekeeping inventor says he was inspired at Fieldays to create something of his own
Kerikeri farmer Grant Engel is the brainchild behind Revolutionary Beekeeping—a mobile stainless steel harvester that lets beekeepers extract honey straight from the hive.
Talking about what inspired his invention, Grant says that as a child, he visited NZ National Fieldays and the agricultural inventions and new technology on display encouraged him to return someday with an invention on his own.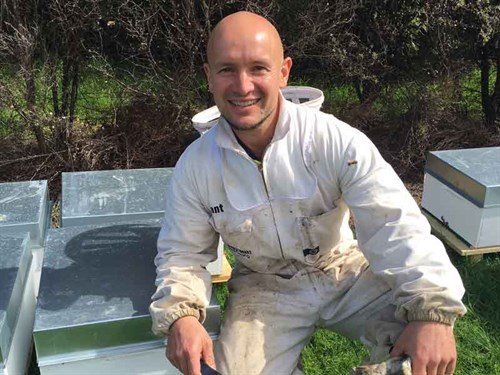 When Grant moved from Wairarapa to Kerikeri, he started taking interest in the region's focus on bees and honey.
 "I realised that taking honey away from the hive and processing it was much like getting a dairy cow and driving it to a shared facility where it was milked and then taking it back to site; it didn't make a lot of sense. I thought I could come up with something different," he says.
After dabbling a bit, Grant came up with the idea of a device for beekeepers that would enable them to harvest honey on-site. Once a prototype was developed, he entered the Fieldays Innovation Awards in 2013 in the Launch NZ category.
"I'd been following Fieldays' innovations for a long time; the Innovations Centre was always my first stop when I went to Fieldays, and I wanted to enter something so I could be on stage alongside all the other innovations that had inspired me. It was the culmination of my childhood dream," he says.
And as luck would have it, his prototype was chosen as the winner in the category. "Being able to launch the product at Fieldays put us on a platform. It allowed a lot of people to see our product, and ultimately winning the award really took the business to the next level."
Fieldays anniversary event, Kerikeri
An event will be held in Kerikeri on 2 June to celebrate Grant's story, and to bring the Northland community together to celebrate Fieldays' 50th anniversary.
Fieldays marketing manager Taryn Storey says they're looking forward to welcoming the Kerikeri community and surrounding areas to the event.
"Fieldays is a national event that means a lot to people all over New Zealand, and this is a chance for people to come and share their memories of Fieldays and share their stories about farming life," Taryn says. "It's also a chance for the rural community to get together, catch up with old friends and neighbours and have some fun."
Keep up to date in the industry by signing up to Farm Trader's free newsletter or liking us on Facebook