Invercargill farmer's 50th Fieldays
---
Fieldays' 50th is a special year for Invercargill farmer Bill Johnston, as this year also marks his 50th Fieldays
While 2018 marks Fieldays' 50th year of showcasing agriculture and innovation to rural and urban audiences, it is also a special year for Invercargill farmer Bill Johnston, as this year also marks his 50th Fieldays. The Invercargill farmer hasn't missed one since it started.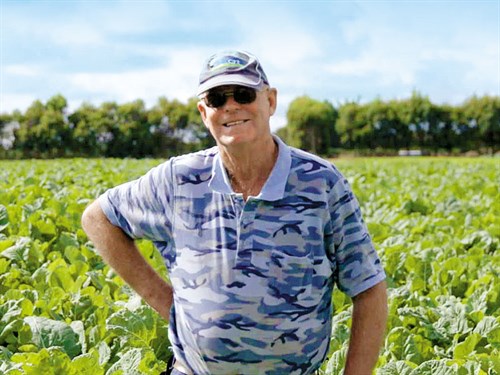 When Bill went to the first New Zealand Agricultural Fieldays in 1969 (or the Town and Country Fair as it was then known), he probably wasn't thinking about the half-century-long tradition he was starting.
Fifty years ago, Bill travelled from his family's dairy farm in Otorohanga to attend the first Fieldays' event, then held at the Te Rapa Racecourse in Hamilton. For the first few years, Fieldays was held in the summer months until June, with its wetter and muddier weather, became 'official' Fieldays month.
"Not that you'd have to worry about the winter weather now. These days, you can just about get around Fieldays in your good shoes," Bill says.
Traipsing into a wet Fieldays in the early days could be hazardous. "A bit of rain would mean about six inches of mud and cars sliding all over the place trying to get out. It's much more organised now; they've got it down to a fine art."
When Fieldays first started, Bill says you could get around it in about three hours. "Now it's more like three days," he says. With so much Fieldays experience under his belt, Bill has a method for making sure he sees everything.
"I start at the beginning at the big main entrance and have a wander up and down the rows, getting in about half of everything over the first two days. Then on the third day, I go back to the things I want to see again.
"It's always nice to see all the big new machinery and have a bit of a dream about it all. In the early days, tractors were a lot smaller. Over the years, they've become more like tree toppers."
Bill has seen a lot of change in the 50 years he's been going to Fieldays, and while it has grown to become a global event, he reckons the core purpose has stayed the same – and that's what keeps him coming back.
"The basics are still there," he says. "New ideas and inventions can come and go at times but the core of farming is still there."
Making the big move down south to Invercargill certainly hasn't deterred his tradition either. Bill moved to help his son Graeme convert his sheep farm to dairy in 2008 and continued to travel to Hamilton for Fieldays every year.
After managing the conversion, which took about six months, building the shed and doing the fencing, Bill is more than happy to take a backseat on the farm now in what he calls the official "gofer" role. His visits to Fieldays now include fact-finding tasks for his son.
Bill will be a guest of honour at the flag-raising ceremony, which officially opens Fieldays on 13 June. New Zealand National Fieldays Society chief executive Peter Nation says Bill represents many of Fieldays' long-standing supporters over the years.
"It's quite extraordinary to have a supporter like Bill, and the fact that he comes up each year from the bottom of the South Island is astounding," Peter says.
Keep up to date in the industry by signing up to Farm Trader's free newsletter or liking us on Facebook