NZ Dairy Industry Awards 2018 winners announced
---
Some of the most savvy and progressive farmers from around NZ took to the stage at the recent 2018 New Zealand Dairy Industry Awards
In the line-up of final winners, Dan and Gina Duncan (Northland) were named the 2018 New Zealand Share Farmers of the Year, Gerard Boerjan (Hawke's Bay-Wairarapa) became the 2018 New Zealand Dairy Manager of the Year, and Simone Smail (Southland-Otago) was the 2018 New Zealand Dairy Trainee of the Year. They shared prizes worth more than $202,000.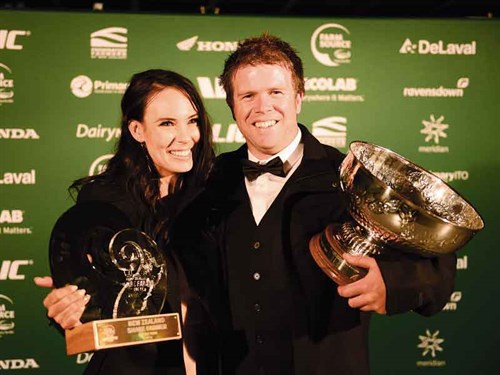 "This year, there have been a few trends among the 33 finalists competing for honours in the awards programme," general manager Chris Keeping says. "The finalists are acutely aware of the importance of biosecurity and health and safety with regards to environmental issues, animal management, and sustainability. It's extremely positive to see such dedication to these issues within the industry."
Share Farmer head judge Kevin McKinley, from DairyNZ, says the judges were impressed to discover how educated the entrants were, either tertiary educated or looking to upskill themselves.
"We've been from one end of the country to the other and we have met a stunning group of people excelling within the industry.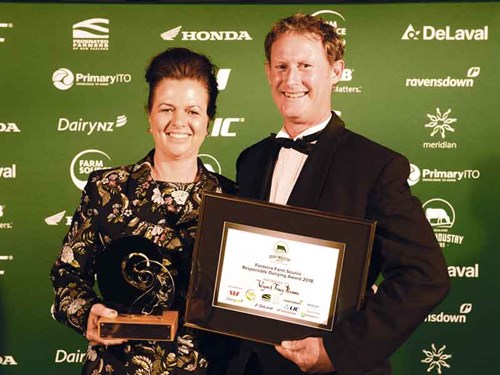 "We met people who genuinely value other people and how they can help them progress through the industry. They realise you have to look after staff and value them if you want to keep them. The winners will be excellent ambassadors for the dairy industry."
Fellow Share Farmer judges Matt Richards, from Southland, and Jacqui Groves, from Westpac, say it's fantastic to see people putting themselves out there to be judged.
"The industry is in good hands," Matt says. "They might be doing it differently to how we used to, but the next generation is growing the industry and evolving and the rest of us have to be ready and prepared."
2018 NZ Dairy Industry Awards full results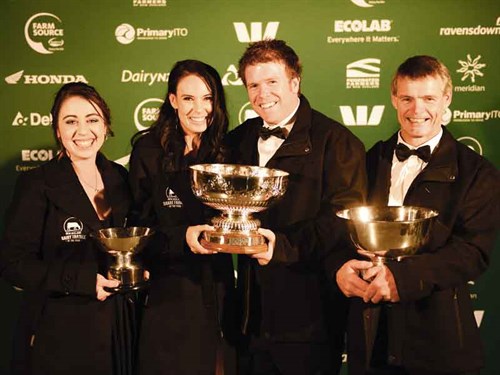 2018 New Zealand Share Farmer of the Year
Winner – Daniel and Gina Duncan, Northland
Runner-up – Chris and Sally Guy, Auckland-Hauraki
Third – Steve Gillies and Amy Johnson, Waikato
DairyNZ Human Resources Award – Simon and Hilary Vallely
Ecolab Farm Dairy Hygiene Award – Chris and Sally Guy
Federated Farmers Leadership Award – Steve Gillies and Amy Johnson
Honda Farm Safety and Health Award – Tim and Melissa Parsons
LIC Recording and Productivity Award – Richard and Wendy Ridd
Meridian Energy Farm Environment Award – Thomas and Jennifer Read
PrimaryITO Interview Award – Daniel and Gina Duncan
Ravensdown Pasture Performance Award – Daniel and Gina Duncan
Westpac Business Performance Award – Daniel and Gina Duncan
2018 New Zealand Dairy Manager of the Year
Winner – Gerard Boerjan, Hawkes Bay-Wairarapa
Runner-up – Will Green, Canterbury-North Otago
Third – Jaime McCrostie, Southland
DairyNZ Employee Engagement Award – Gerard Boerjan
DeLaval Livestock Management Award – Colin Tremain
Fonterra Farm Source Dairy Management Award – Anthony Lamborn
LIC Interview Award – Anthony Lamborn
Meridan Energy Leadership Award – Sam Moscrip
PrimaryITO Power Play Award – Jaime McCrostie
Ravensdown Feed Management Award – Will Green
Westpac Financial Management & Planning Award – Gerard Boerjan
2018 New Zealand Dairy Trainee of the Year
Winner – Simone Smail, Southland-Otago
Runner-up – Donna McKinley, Central Plateau
Third – Quinn Youngman, Auckland-Hauraki
DairyNZ Practical Skills Award – Andrew Trolove
DeLaval Communication and Engagement Award – Simone Smail
Best Video Award presented by Streamliner – Donna McKinley
Keep up to date in the industry by signing up to Farm Trader's free newsletter or liking us on Facebook