South Island Dairy Event speakers share success
---
Multisport athletes Richard and Elina Ussher, share their survival tips with farmers at this year's South Island Dairy Event (SIDE)
The couple is part of an impressive line-up of experts from a wide-range of fields to speak at the event, which is in its 20th year.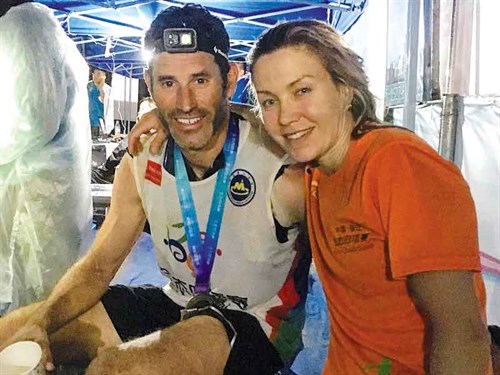 The theme for this year's SIDE is: It starts with us. This refers to four key tangible areas farmers can focus on to improve their farm business. These include personal wellness; innovation and technology; people and business growth; and media, community, and environmental engagement.
The Usshers say learning to work cooperatively as a couple, and within a larger team, has been a key aspect of their success. They'll bring their insights about personal wellness to delegates.
Insights into innovation and technology will come from Animation Research Ltd (ARL)founder Ian Taylor. ARL covers sports events all over the world, developing solutions  from innovation.
"We didn't discover the digital world," Ian says, "it discovered us. Someone invented the internet, and they gave us our highway to that world. We have been travelling it ever since."
And who better to talk about people and business growth than Sir Graham Henry? Delegates will benefit from Sir Graham's wisdom and experience in building an environment of high-performing teams.
Media, community, and environmental engagement is becoming increasingly important for the dairy sector. NZME managing editor Shayne Currie will open a window into his world, essential in an era where social media and citizen journalism has become part of everyone's everyday working lives.
Original committee member and organiser Helen Shrewsbury says SIDE is as relevant and fresh today as it was 20 years ago. 
"With more than 10,000 registrations under its belt since it started in 1999, SIDE continues to go from strength to strength while still following the original purpose and aims," Helen says.
"The event is organised by farmers and gives them the opportunity to talk to other farmers and learn from their experiences and successes. This means the topics and workshops are current, relevant, and give real value. I really like how SIDE is looking at other industries to get insights from their experiences on teamwork, innovation, and staff retention."
Another original committee member, Andrew Calder, says the original organisers fought hard to have farmers retain a controlling say in how SIDE evolved and was presented.  "I think that remains a very strong message today."
Speaking of this year's programme, Andrew says, "I like the diversity of speakers. Science, proven innovations, and best practise being demonstrated is good to see. This is a terrific forum for our industry's research and development."
SIDE continues a longstanding partnership with DairyNZ in 2018. SIDE2018 takes place at the Dunedin Centre on 25 and 26 June 2018.
Keep up to date in the industry by signing up to Farm Trader's free newsletter or liking us on Facebook