Insulated kennel developed for farm dogs
---
Kelvin the Thermokennel aims to improve the productivity of hounds on New Zealand farms by providing them with an insulated kennel
The classic metal cage/kennel is often home to many working farm dogs. But Marlborough farmer and innovator Rosie Todhunter has developed a warmer cosier option. The Thermokennel is a Kickstarter project, which aims to change the lives of Kiwi dogs.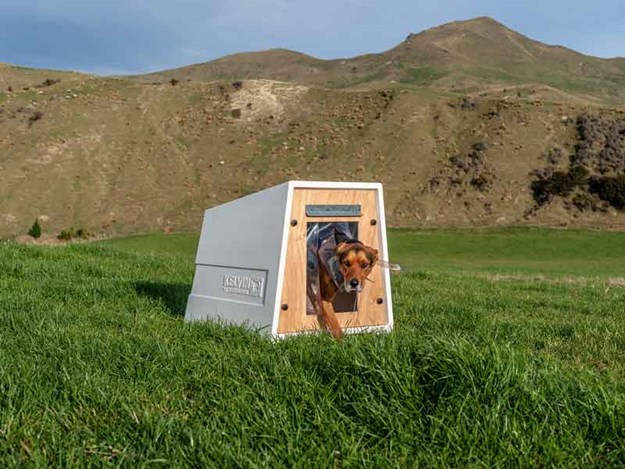 A sheep and beef farmer, Rosie teamed up with Tauranga-based product development company Locus Research to redesign and develop Kelvin the Thermokennel.
"We believe the Thermokennel will seriously improve the productivity of New Zealand farms and give these dogs a better life. And not only our beloved dogs on the farms, any dog who spends the nights outside," Rosie says.
"Just like people, dogs can freeze to death or suffer from heat stroke. Uncomfortable temperatures can release stress hormones and seriously impact the wellbeing of a dog and ultimately their effectiveness on the farm."
The Thermokennel story started with Tony, Rosie's grandfather, a Canterbury sheep farmer. Recognising that a warm, well-rested dog would eat less, could work for longer, and heal more quickly from injuries and ailments, he came up with the idea for an insulated dog kennel and the idea was further progressed by granddaughter Rosie after his passing. 
After meeting at the New Zealand Agricultural Fieldays® where Rosie presented her first prototype, Locus Research and Rosie embarked on a development process that resulted in a durable mono-form design with a removable floor and front panel.
The main body and floor are constructed of two layers of UV resistant tough plastic (PE) filled with 50mm of high insulating foam (PU). This combination acts like a solid thermal barrier keeping the cold out and the heat in. The kennel is completed with a removable front panel, for hot summer days, and a raised plywood floorboard for your dog to sleep on.
The door opening is covered with transparent flaps, similar to those used in walk-in freezers and cool stores, making it easy for dogs to walk in and out while minimising heat loss. 
The result is a lightweight kennel that's durable enough for life on the farm but still comfortable enough to give dogs a good night's sleep.
Prototypes have met and exceeded the expected thermal performance of the chosen materials. The kennel meets AsureQuality's recommended environment temperature range for boarding kennels.
With manufacturing partners lined up, the company is looking for the funding to get into production and has launched a Kickstarter campaign to help raise funds for tooling and initial production.
"We've had massive encouragement for the Kelvin the Thermokennel concept, and now it is time to turn that enthusiasm into production. I hope people will get behind us in our drive for funding and that anyone who would like to support the farming community will share this with their networks also," Rosie says.
"Up until this point, Kelvin the Thermokennel has been 100% self-funded start-up for the love of dogs. By pledging now, you are helping to kick-start a small, unique, animal-loving company."
Keep up to date in the industry by signing up to Farm Trader's free newsletter or liking us on Facebook