Claas sets a new world record for mowing
---
A US family-owned farming operation has set not one but two new Guinness World Records, harvesting 1111 tonnes of maize in eight hours and then 1620 tonnes in 12 hours
Using a Claas Lexion 760 Terra Trac combine harvester equipped with a 16-row corn front, and a Claas Disco 1100 RC, billed as largest tractor-mounted mower-conditioner on the market, the combination shattered the world record for mowing.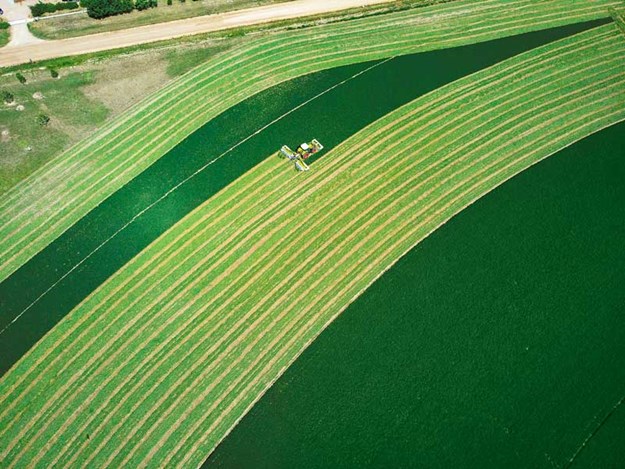 Mounted to an advanced technology Claas Axion 870 (295hp) tractor with continuously variable transmission, the triple mower-roller conditioner unit effortlessly processed 141.1 hectares of lucerne in eight hours straight.
The average work rate of 17.6 ha/h is even more impressive, given the average yield of 5.24 t/ha DM and the fact the crop was spread across four different fields.
The record was established by Tate Mesbergen from Mesbergen Farms, Greely, Colorado, with the assistance of his support team and Claas staff. Claas will submit the necessary documents to Guinness for verification.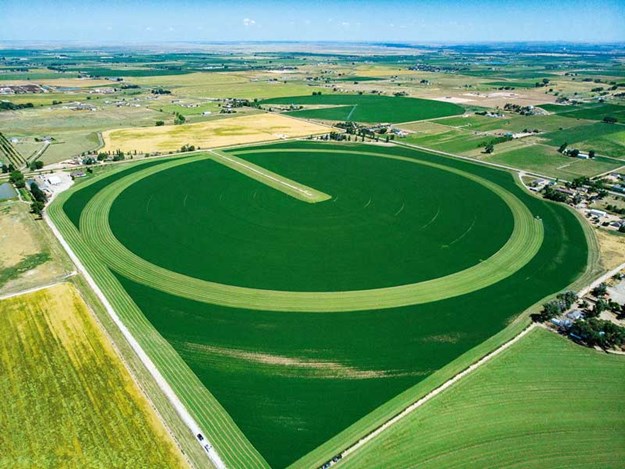 Not everything went according to plan, with the start delayed by several hours due to 12.7mm of rainfall the previous day, and two unplanned stops.
"I hit a piece of concrete on the first field and had to check whether the mower unit was damaged," Tate says. "A quick examination showed that no harm was done – not one blade had to be replaced."
Tate also had to stop to check that the DISCO mower unit was correctly folded before moving to the last field. "Not all fields were close to one another, so it was a real challenge to quickly fold up the mower units for transport and hurry along the roads," he says.
Despite its impressive width, the Disco 1100 has a transport width of less than three metres, thanks to hydraulically-folding telescopic arm technology developed for the massive Claas Cougar self-propelled mower.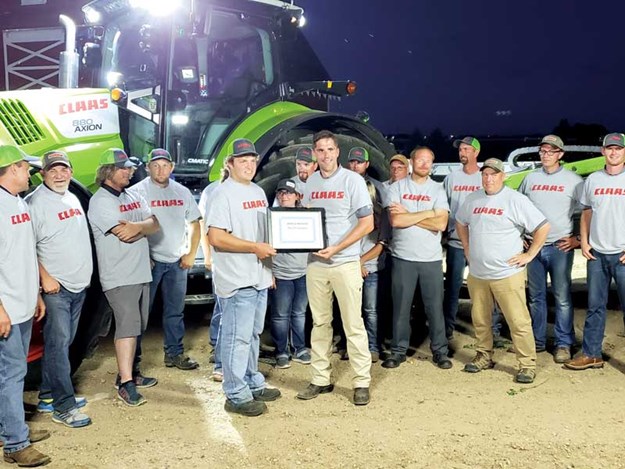 Claas Harvest Centre product manager (Jaguar and Greenline) Luke Wheeler, says the new record eclipses the previous benchmark by 40.5 hectares.
"The previous record was set on grass, not lucerne, and using a mower without a conditioner, so it was clearly an easier task," Luke says. The Disco 1100 RC has a conditioner with two V-shaped interlocking polyurethane rollers, which compress the hard stems while simultaneously preserving the precious leaves.
"This reduces the wilting time required and guarantees maximum feed value, because the leaves are preserved, but on the flipside, increases the mower's power consumption," Luke says.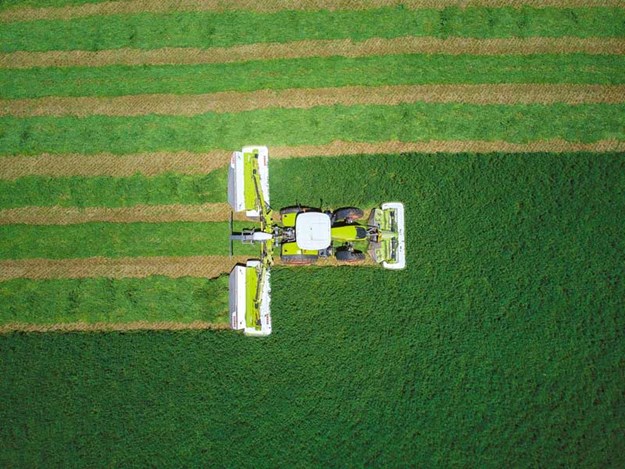 "The Axion 870 tractor handled this easily." The 1100 is the flagship of the completely revamped series of Disco mowers, which now includes 28 new front-mounted, rear-mounted and trailed models with operating widths from 2.6 metres through to 10.7 metres.
All Contour configurations incorporate the award-winning Max Cut cutterbar, which features a wave-shaped mower bed press-formed from a single piece of material.
Keep up to date in the industry by signing up to Farm Trader's free newsletter or liking us on Facebook