Amazone tames the wind with innovative WindControl system
---
Spreading technology leader, Amazone, claims it can tame the wind with its innovative WindControl system, which automatically adjusts lateral distribution according to wind speed and direction
Claas Harvest Centre product manager (Amazone) Blair McAlwee says the technology is ideal for regions where wind is a regular problem during spreading operations.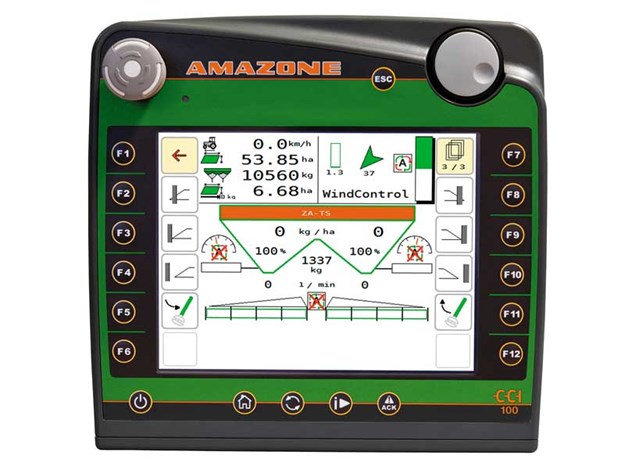 The technology is built on Amazone's Argus Twin spreading pattern monitoring system, which uses 14 radar sensors to monitor the spreading pattern of the left and right spreading discs. The system then automatically adjusts the spreading pattern of either disc if any deviation from the settings is detected.
"This technology compensates for any change in spreading pattern due to variations in fertiliser quality, during start-up, braking, travelling on slopes, or if the spreading vanes are worn," Blair says. "It also operates during border spreading or section control, ensuring the most effective use of fertiliser and ease of operation."
A high-frequency wind sensor monitors wind speed and direction and transfers this information to the machine's electronic control unit. The job computer then calculates any additional settings and automatically adjusts the spreading pattern of each disc.
"For side winds, the disc speed to the windward side is increased and the delivery system advanced," Blair says. "At the same time, the disc speed on the downwind side is reduced and the delivery system decreased.
"An alarm is sent to the operator when the system is no longer able to compensate for heavy wind or frequent gusts. 
"In effect, WindControl increases the amount of time operators can be in the field, knowing that spreading operations are still being carried out with optimum precision. The wind sensor is mounted to the spreader and automatically folds in or out when the spreading discs are switched on or off.
"Folded out, the wind sensor protrudes above the tractor so that measurements are not disturbed by turbulence around the tractor," Blair says.
"Folded in, the wind sensor is safely positioned between tractor and spreader so that it cannot be damaged by low hanging tree branches during transport."
WindControl technology is available as an option on all ZA-TS mounted and ZG-TS trailed spreaders.
Keep up to date in the industry by signing up to Farm Trader's free newsletter or liking us on Facebook