Digital safety messages around rural water hazards
---
A new safety video has been launched to highlight the need for rural communities to be vigilant to prevent drownings of young children
Ashburton irrigation schemes, Ashburton District Council, Water Safety New Zealand, and local community members have created the safety video to highlight the need for rural communities to be vigilant to prevent drownings of young children.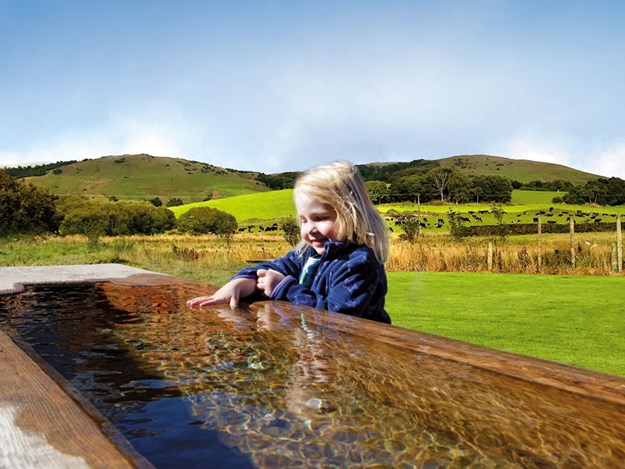 The short video is already making an impact and just weeks after being launched was viewed almost 10,000 times on Facebook and YouTube and shared nearly 100 times on Facebook.
Two of the stars of the video are Mayfield pre-schoolers Angus and George Dampney. They live on a farm, which has a water race close to their house, as well as duck ponds, irrigation, and effluent ponds and an effluent wedge.
"We are around water all the time. Water safety is really important and the danger it can pose to children needs to be taken seriously," says their mother Hayley Dampney. 
Hayley says that the other children at the boys' pre-school have seen the video and had learnt a lot about being safe around water through being involved in the video production.
The idea to create the video came from local irrigation schemes. "In January, a tragic drowning of a child occurred in a stock water race near Ashburton.
This followed the drowning in September of a small child in a stock water race in Rolleston in the nearby Selwyn district," says Melanie Brooks, the chief executive of MHV Water.
"As a cooperative, community safety is of utmost importance. We have around 320km of water races in our scheme, effluent storage ponds, and many on-farm storage ponds across our district.
Drowning is an ever-present hazard and we wanted to explore what we could do locally to help prevent further toddler drownings." MHV contacted Water Safety New Zealand and the Ashburton District Council, which manages a large network of open water races.
The organisations brainstormed options and brought two other irrigation schemes – Ashburton Lyndhurst Irrigation and Barrhill Chertsey Irrigation – into discussions.
"We all wanted to create a video that shared some key safety messages for parents to help keep kids safe around waterways and water races," Mel says. The overall numbers of preventable drownings in New Zealand fell significantly in 2018, from 92 in 2017 to 68 in 2018.
However, the number of drownings of young children to date in 2019 is already at four – higher than the total of three for the whole of 2018. In addition to the two drownings in Canterbury, two pre-schoolers drowned in a wastewater treatment pond in Gore and in a pool in Riverhead, northwest of Auckland.
"To parents and caregivers in our rural communities, the most important message is to actively supervise your children at all times around water or where potential water hazards are present. Babies and toddlers need to be kept within arms-reach," says Water Safety New Zealand chief executive officer Jonty Mills.
"Do not leave older children in charge of smaller children around water. Be aware of all water safety hazards on your property and your neighbours. Any body of water presents a danger. A toddler can drown in a puddle and it takes less than a minute."
"In the last 10 years, there have been 58 preventable toddler drownings in New Zealand. The Ashburton district has many water races, irrigation ponds, streams, and rivers, most of which are not fenced or restricted, and many are often on private properties," Ashburton District Council chief executive Hamish Riach explains.
"It's not realistic to expect every waterway in rural areas to be fenced. With so many potential drowning hazards around, it's vital that everyone is keeping a vigilant eye on their young ones at all times.
The Council is proud to be working in partnership with local irrigation companies and Water Safety NZ to help reinforce this crucial message."
Water Safety NZ helped create the safety messages included in the video, which were delivered by a range of local residents, including local farming families connected to irrigation schemes. Ashburton District Council filmed and produced the video.
Those involved in creating the video say it has been well received by the community.
"We have had some really positive feedback from a range of local organisations and people who have watched the video saying that they're really pleased to see us working together to promote this safety message," says Mel.
"We have had lots of comments from friends who think making the video was a wonderful idea," says Hayley. Alongside partners Swimming New Zealand and The Warehouse, Water Safety New Zealand is working to get their Water Skills for Life aquatic education programme into every primary school in the country. 
Water Safety New Zealand's advice for parents to keep babies and toddlers safe:
The team at Water Safety New Zealand and Ameliaranne Ekenasio, Central Pulse and Silver Fern netballer and Water Safety New Zealand ambassador, have this advice to share:
Provide constant active adult supervision at all times
Always keep babies and toddlers within arms' reach around water. It takes less than a minute for a child to drown.
If you're in a group, have an active adult supervision roster
Don't rely on older children to supervise younger ones in, on, or around water. Constant active adult supervision is required at all times.
Identify water hazards in and around your property and your neighbours
Any body of water is a potential drowning hazard for a small child, including puddles, creeks, water races, troughs, drainage ditches, and effluent ponds. Empty water from unused buckets, paddling pools, and containers after use.
Pools should be properly fenced and comply with the safety requirements under the Building (Pools) Amendment Act 2016 with properly working safety latches. Ensure pool gates are secure and locked at all times.Ensure your toddler has a fenced play area away from any potential water hazards.
Use your Water Safety bathmat at bath times
Water Safety New Zealand works with Plunket to supply bathmats to new parents to keep toddlers and babies safe at bath time. The bathmats stop your child from slipping.
Avoid distraction
Put your phone away when supervising children around water. Their lives are in your hands and their safety requires your full attention.
Teach your children water safety behaviour
As soon as they are old enough to understand, teach your children things like: 'Never go near the water unless you're with a grown up'.
It's important children are taught that while water is to be enjoyed, it must also be respected. Teach them about the risks and dangers associated with water-based activities.
Wear lifejackets
Lifejackets should be worn whenever your child is around water as accidental immersions are a leading cause of preventable drowning fatalities in New Zealand.
Support your child and give them enjoyable and positive early experiences around water
It's important to begin your child's aquatic education early and is as simple as taking them to a pool for a fun splash around.
It's crucial that every New Zealander can learn to enjoy the water from an early age so they can learn essential aquatic skills to keep them safe.
Keep up to date in the industry by signing up to Farm Trader's free newsletter or liking us on Facebook