Monster addition to Norwood Hire fleet
---
The New Holland T9.670 is the latest addition to the Norwood Hire fleet
Sitting at a monstrous 4.2 metres wide and 7.5 metres long, it's the biggest tractor New Holland has imported to New Zealand.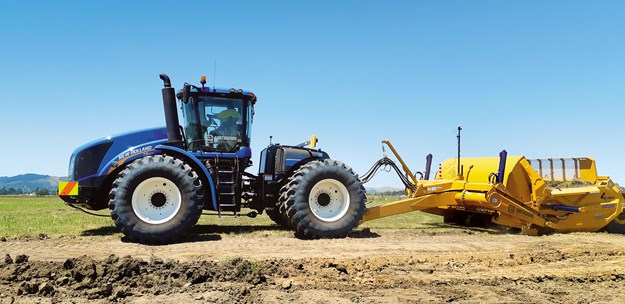 The T9.670 features a 12.9 litre, six-cylinder turbo diesel engine, which delivers 600hp to its dual tyres on both the front and back axles, making this tractor a beast in both appearance and performance.
The proud new operator of this machine is Matt Mead, owner of Earthwork Solutions in Gisborne. Norwood Hire division manager Greg Moore chatted with Matt about his decision to hire the New Holland machine.
"When Matt was first on the hunt for a tractor with enough grunt to pull a scraper scoop for his operation, he didn't know what brand he wanted to go with. He made an enquiry with Norwood and was impressed at how quickly the team gathered all the relevant information for him, including finance and hire options.
"The T9.670 was identified as the tool for the job and was currently available in Australia. The team managed to get it held for Matt until he secured a contract which ensured that he would need the machine."
Matt flew to Australia and had a chat with a customer who operated the same tractors before settling on a scraper scoop for the New Holland to tow, which he purchased separately.
To ease the load of the capital outlay, Matt decided he would hire the T9.670 from Norwood Hire for the first 12 months of his operation.
"He was impressed with the ease of the hire process, commending how simple it was and how smoothly it went."
The tractor arrived into the country on the final day of 2018 and got put to work on 22 January. Matt has the New Holland pulling a 28 cubic yard (21.5 cubic metres) K-Tec 1228 scraper, which it fills to the brim in less than 30 seconds. In terms of fuel consumption, he's managing to come in at an average of 37 litres of diesel per hour.
"I have another smaller scraper, a 14 cubic yard (10.7 cubic metres) one, on the job too, which is being towed behind a 295hp tractor. The T9.670 is moving twice as much dirt in roughly the same amount of time while using less fuel," says Matt. "The smaller unit is like a teaspoon behind a matchbox toy tractor by comparison."
Keep up to date in the industry by signing up to Farm Trader's free newsletter or liking us on Facebook