Precision beekeeping launches in NZ
---
ModuSense provides beekeepers with the ability to track the activity in the hive and make decisions about harvesting on a commercial scale without travelling to the site
Helping New Zealand's commercial beekeepers get more out of their hives is the goal of a new start-up that marries the best of the tech world with solid, Kiwi know-how.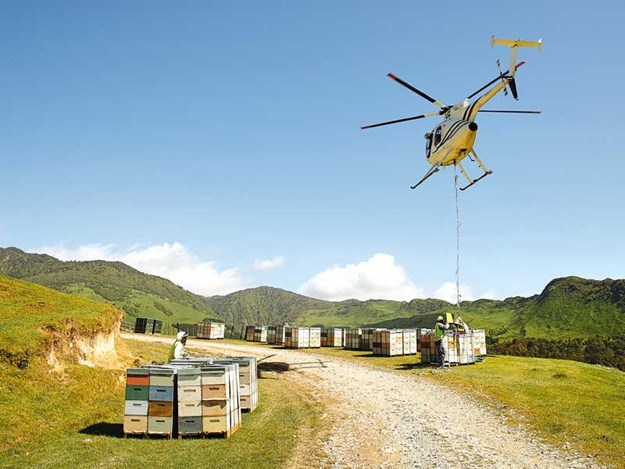 Until now, most of New Zealand's 880,000 registered bee hives have produced honey without beekeepers knowing for sure how the hive is operating until the day of harvest.
They've been working in the blind, hoping and trusting that the hive is active and producing but with no cost-effective way to check on the hive's progress.
Typically, the first opportunity a beekeeper has to see how a hive is performing is on the day of harvesting itself – something that usually involves helicopters, trucks, and personnel.
By then, it's too costly to change the harvesting schedule if required. An industrial-grade solution by Kiwi business ModuSense now provides weight, temperature, and humidity information in real time, beamed directly back to the beekeeper to review.
ModuSense founder Bruce Trevarthen says the goal is to help beekeepers better understand their hives, the site they're in and how the bees are performing – to produce a better yield at harvest time and reduce costs along the way.
"These hives tend to be placed in remote, difficult-to-access locations, making them hard to monitor."That means it's not until the beekeeper goes in to retrieve the hive that they can see how the hive has performed.
We wanted to provide beekeepers with a way of checking up on the hive without having to tramp in to the site or fly in by helicopter, something that is costly in terms of time and money."
ModuSense provides commercial-grade equipment that can tell the beekeeper just how well the hive is performing and when to go in to get the maximum yield from the hives.
"We place sensors in the hive to test for temperature and humidity and put the whole thing on a purpose-built scale to measure weight.
Information is sent back to the beekeeper via wireless signal or by satellite for truly remote operations."Beekeepers will be able to track activity at the hive and make decisions about harvesting on a commercial scale without travelling to the site.
"We can see what times of the day the bees head out, what time of day they return, how much honey is being produced, and whether the hive is active or not.
In our trials, we've seen commercial operators make the call to keep hives working when they're doing well and seen them intervene when a hive isn't producing."
Working with multiple large-scale commercial beekeepers, ModuSense has built a robust physical platform designed around the standard beehive footprint, with an easy-to-understand dashboard that provides bee keepers with the information they need, whether they have 200 hives or 20,000.
"We've spent almost three years in pre-production, building test kit and working with our partners to really thrash them about, to put them through the rigours of life that a standard beehive will experience.
As a result, we've got a solution that is geared to the needs of a commercial operation – something that's a first in New Zealand and around the world."
Keep up to date in the industry by signing up to Farm Trader's free newsletter or liking us on Facebook