Kubota unveils new electric X tractor
---
Kubota has removed the curtains from a new futuristic electric tractor to help celebrate the Japanese company's 130th anniversary
It's been 50 years since Kubota exhibited its first-ever concept tractor at the Japan World Exposition held in Osaka in 1970 and now the machinery giant has done it again, unveiling it X tractor in time for the big birthday bash.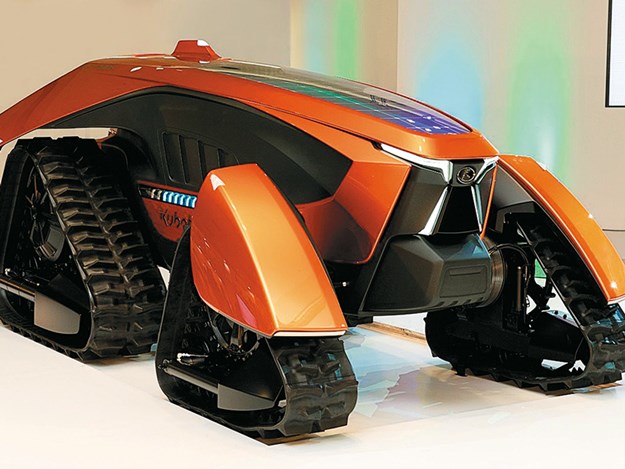 Equipped with artificial intelligence (AI) and electrification technology, this 'dream tractor' is a completely autonomous tractor that represents the future of farming as seen by Kubota.
The company wants to achieve a completely autonomous operation based on various data such as weather data and growth rates. The environmental data obtained by tractors in operation can be automatically shared with other machines at site to realise a centrally-managed efficient operation.
Based 100% on electric power by a combination of lithium-ion batteries and solar batteries, the new tractor aims to be environmentally friendly with zero emissions. It's a four-wheeled crawler tractor, which achieves stable autonomous driving even on wet fields and uneven terrains.
The four-wheeled crawler changes its shape to maintain the tractor height at the optimal level, thus performing in various processes. For jobs that need high traction, the contact area with the ground can be increased by lowering the tractor height in order to lower its centre of gravity.
On the flip side, when operating above crops for their management, clearance from the ground can be adjusted by increasing the tractor height.
An in-wheel motor makes it possible to arbitrarily change the rotation speed of the four crawlers, front, rear, right, and left to achieve a small turning radius for autonomous operation on various types of land.
The new 'dream' tractor was exhibited in the Kubota Pavilion at the Japan World Exposition, Osaka 1970 with advanced technologies at that time such as superior functionality, great driver comfort, and easier operability.
Find more tractors for sale in NZ
Keep up to date in the industry by signing up to Farm Trader's free newsletter or liking us on Facebook