More choice in the MGX
---
Kubota expands its MGX front loader range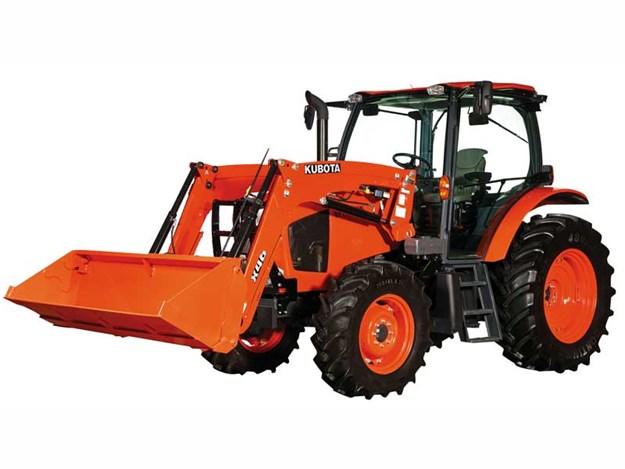 The choice of MGX front end loaders has just been expanded, with the addition of two mechanical level lift loaders, the X46 & Q5S, from Kubota and Swedish manufacturer ALO.
The X46 loader is suitable for the M100GX and M110GX, while the Q5S loader is suitable for the M126GX and M135GX.
These two loaders are an addition to the Kubota-made LA1954 and LA2254, which come out of the American factory (KIE). The X46 & Q5S will add a more European style and functionality for farmers.
Kubota-branded and ALO-built, these new loaders come standard with high build quality and finish, third service, boom suspension, euro hitch, ergo-drive joystick, no leak flat-faced couplers, and optional hydraulic quick coupler (standard on Q5S only).
An option for the Q5S is the electro-drive electronic joystick, which allows the loader to be operated with just the thumb. Once loader work has finished, the joystick can be pushed aside so it's completely out of the way of any other tractor functions needing to be used.
A neat chamfered and curved 80mm wide, high-tensile steel profile arm with round, low placed cross-tube for the best torsional force absorption add to the durability. Cast and forged components are used at the arm ends, at the 'knee', and at the rear of the Q Link; this gives extra strength at crucial points, the bushings, and pivot pins on the loader.
Wide moveable feet on the loader legs tuck neatly away underneath the main boom when not in use, away from the tyres, and there's no need for any tools to remove or refit the loader to the tractor.
All pipes and hoses are also tucked away to increase vision when operating.
Plastic-covered grease points are placed on the outside so they can be greased while walking around the loader instead of having to climb over it.
Find more farming machinery for sale in NZ
Keep up to date in the industry by signing up to Farm Trader's free newsletter or liking us on Facebook