New recruit
---
Farm Trader caught up with a Waikato-based farmer, Willie who is the happiest behind the wheel of ag machinery, or in his spare time cycling the most rugged trails he can find.
Waikato farmer William (Willie) McKnight is the newest member of the Farm Trader machinery tester team. Based on the outskirts of Cambridge, Willie manages a 200-hectare dairy grazing block.
His drive for excellence saw him win Waikato farm manager of the year award in 2010 and place third for the national award. With his wife Jo and three children, the family live on their 15-hectare block where they rear "a little zoo of calves, pigs, chickens, ducks, dogs, and a few dairy grazing cows".
Willie's passion for farm machinery stretches back as far as he can remember, with fond childhood memories of accompanying his grandparents and parents on the family dry stock farm in Wanganui.
"I think I was on the tractors from a pretty young age and that's never changed," he says.
In fact, he has lovingly restored a 135 Fergie tractor that his grandfather bought brand new many decades ago.
These days he's often found behind the wheel of his John Deere 6125R or on any range of machinery in his role of contracting work for local contractor Wally Sinton (Regrass Contracting) doing anything from direct drilling and muck spreading to haymaking.
"I most often run the direct drill planting summer crops and under-sowing and re-grassing in autumn," he says. Willie is also a tutor for Dairy Training Ltd, owned by Dairy NZ. "My role there is to deliver dairy farming classes, teaching students a wide range of farming skills and topics.
I tutor Level 3 feeding and pasture, livestock health and husbandry, and Level 4, which is whole farm systems, benchmarking, monitoring, and reporting. "I also deliver hands-on dairy training to on-farm staff who are new to the dairy industry." While he's the first to admit he can be a bit obsessive about farm machinery, he's also an enthusiastic deer hunter and cyclist.
The whole family share Willie's passion for mountain biking and racing, with son Lachlan (14) just as often found pedalling around the Te Miro hills at the back of the farm as anywhere else. Freya (10), Elliot (6) and wife Jo all enjoy the opportunities of living beside a mountain bike park and whenever Willie can snatch a spare moment away from the farm, he's utilising pedal power for fitness and enjoyment.
While Willie and Jo have been farming together for many years, ironically, they first met in their roles as chefs. While working part-time as a relief milker straight out of school, Willie headed off to train as a chef in Wanganui where he met Jo.
The couple worked in the hospitality industry before leaving to go dairy farming in Wanganui, followed by a move to the Waikato. After many years in the dairy industry, a change of direction saw them buy their block and take on the management position at a nearby dairy grazing block.
This season has thrown up some fresh challenges, with ongoing drought conditions, followed by COVID-19 impacting the family and farm lifestyle. "The drought has been hard. It's been the worst that I've experienced and continued for such a long time. We've fed a large amount of supplement to the cows already this season and crops aren't doing as well as they should have.
"That along with stock water issues and the challenge getting contractors and supplies on-farm during Level 4 lockdown has meant we've needed to do a bit of adapting but that comes with the territory when farming.
"Having the kids home has been awesome in terms of having their help, and we've enjoyed some pretty good quality time teaching them. They've been rearing calves, motorbike riding, weighing heifers, and exploring all corners of the farm. This side of COVID-19 has been a huge positive.
"And now that we're in Level 2, we're looking forward to some adventures on the bikes, hunting and tramping. And, of course, getting around the country to have a look at some of the latest agricultural machinery on the market."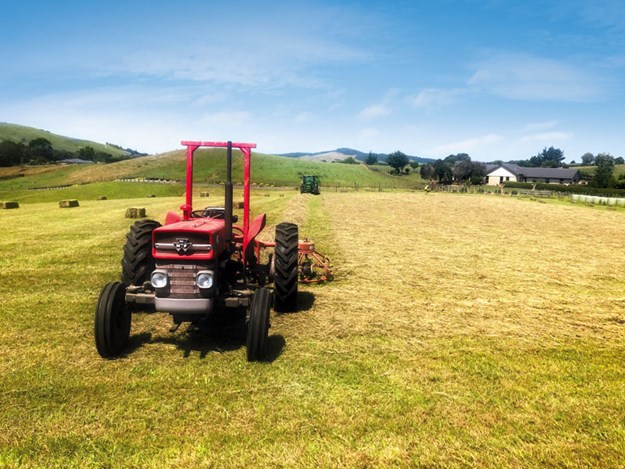 Find farming equipment for sale in NZ
Keep up to date in the industry by signing up to Farm Trader's free newsletter or liking us on Facebook