Jacks Machinery are the newest Case IH dealers
---
Whakatane-based agricultural dealership Jacks Machinery has been welcomed as the newest addition to Case IH's national network of retailers
The 50-year-old eastern Bay of Plenty business revolves mainly around dairy and kiwifruit, so it's in an ag and hort sweet spot.
Graeme Jacks, the late father of owner Steve Jacks, started Jacks Machinery in 1970. After he retired in 1992, Steve and sales manager Ross Fergusson ran the business together until Ross retired in 2011.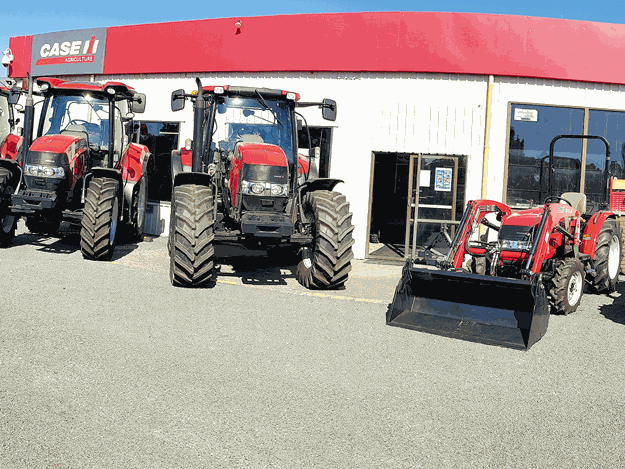 Case IH appointed Jacks Machinery last month to provide better service and support to customers in the eastern Bay of Plenty and to further grow Case IH's presence in the kiwifruit market with the recently-introduced Quantum tractor series.
Case IH brand manager David Silk says Jacks Machinery has a particularly strong reputation in working with kiwifruit growers and understands the industry.
"Horticulture and kiwifruit are unique sectors of the market. They have different requirements and the Jacks team bring the level of knowledge and expertise that is needed for us to be successful with our speciality tractor offering," he says.
Built in Jesi, Italy – at the same factory that produces the Farmall C and U series – the Quantum family consists of three model ranges, the Quantum V, N and F. The V is the narrower version and is generally best suited to kiwifruit here in New Zealand. With four horsepower offerings – 75, 85, 95, and 105hp – Quantums have been positioned to provide a basic specification, with reliability and value for money the key considerations.
"Quantum tractors are quite intensive. They can rack up a lot of hours with mowing and mulching, so they can do quite a lot of heavy work. With our history with horticulture, we dived straight in with the Quantums and had instant success with them. It's been great," Steve says.
Case IH utility tractors are its staple seller, as are the larger, high horsepower models that the brand is well known for. But orchard vehicles are Jacks Machinery's biggest and fastest mover, Steve says.
Jacks Machinery has been involved with kiwifruit since at least 1978, when the government started offering incentives for kiwifruit plantings. Many orchards in the eastern Bay were originally planted in the wrong places but kiwifruit is now well-established in the area.
Kiwifruit plantings have grown steadily, especially as land values have risen in the western Bay. People have moved down here and found pockets where the ground is highly suitable, particularly down at Ōpōtiki and even as far as Te Kaha.
The local firm also hopes to be servicing Gisborne's kiwifruit growers down the track.
"The land's a lot cheaper there and growers are apparently using a different root stock that handles the heavier country. There's a lot of kiwifruit license being bought and taken up down there. It's going in everywhere so it's going to be a growth area for that Quantum type of tractor as well," Steve says.
Customers like the reliability of Case IH, whether it's for horticultural or pastoral. Steve says while the eastern Bay doesn't typically have large farms, there's a scattering of dairy farm groups and the Maori-trust farmers are a growing force.
"They're looking to utilise their land in more efficient ways and there has just been a dairy factory put up at Kawerau – a Maori trust operation that's been styled on the Miraka set up at Taupo."
Steve's team is ready to take on that sort of farming growth. Besides a sales team, the Jacks Machinery workshop has eight mechanics experienced in tractor and machinery servicing, as well as dedicated parts people. The parts manager has more than 30 years' experience and Steve himself works full-time in the business.
"Much is often spoken about service, but we don't just pay lip service to this very important consideration when selling a new tractor or supplying a piece of farming equipment. We have invested heavily in the best diagnostic, service and repair equipment and are committed to training for our team both locally and overseas to ensure we are up-to-date with the latest agricultural and farming technologies," Steve says
Find farm machinery for sale in NZ 
Keep up to date in the industry by signing up to Farm Trader's free newsletter or liking us on Facebook