Fendt VarioGrip has plenty of spinoffs for major contractor
---
Farm Trader takes a closer look at the Fendt VarioGrip tyre pressure system in action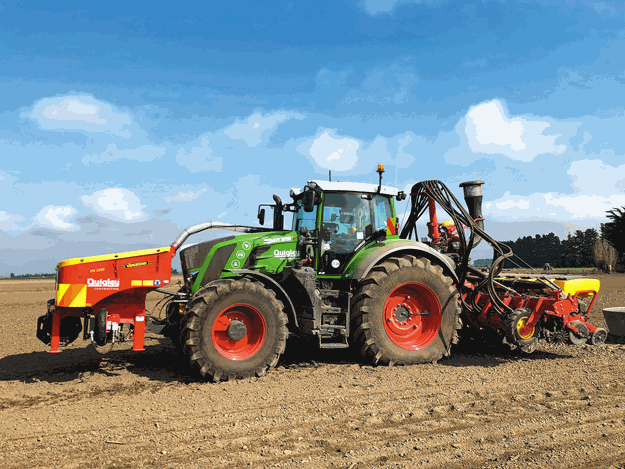 Canterbury's Quigley Contracting bought a number of new Fendt tractors in the last two years​​ and all of them have the VarioGrip tyre pressure system.
Quigley Contracting operations manager Rob Raisbeck says the company specified VarioGrip mainly to reduce road wear on the tyres, but it has given them other benefits as well.
"As contractors, road wear is huge. VarioGrip gave us the ability to run the ideal pressure in the field or on the road. We can even get the ideal pressure for particular applications, such as cultivation or harvest work.
"I believe that it has nearly doubled tyre life, especially in the larger tractors."
Rob says on heavy cultivation tractors, they were lucky to get 3000 hours out of a set of tyres.
"We're currently sitting on 3000 hours and some have minimal wear. I'm reasonably confident we will get close to 6000 hours out of our tyres or potentially more."
Quigley Contracting offers a range of services including baling, forage harvesting, and cultivation. It has a large fleet of tractors and loaders, so doubling tyre life is a massive saving.
Rob says when they moved to Fendt, they were looking for a tractor that would work in all areas of the business. They decided to focus on three sizes to limit the variation – 150hp, 280hp, and 360hp.
The driver is allocated a tractor and uses it with many different implements.
"We picked tractor sizes that work well for us. Sometimes we may be over-powered and sometimes slightly underpowered, but we can use them as for different purposes across the whole business."
The new tractors are two Fendt 936s and 11 Fendt 828s.
"We've gone to Fendt as we require the technology and the versatility. It can do everything we require in all aspects of the business," Rob says.
The advantages Fendt tractors bring include excellent cab suspension, 65kph road speed, and ISOBUS compatibility. The company uses auto-steer and sectional control with applications such as precision planting.
"The Vario transmission is also a big key factor for us. Our operators are familiar with it, and it makes working more comfortable. The tractors are also incredibly fuel efficient and that comes back to the transmission."
VarioGrip allows the operator to change the tyre pressure without leaving the cab. A double compressor provides the air and lines feed it through both axles via a rotary union to open the tyre valves and then fill or deflate the tyres.
Rob says it takes about five minutes to change pressure, and operators learn to initiate the change as they enter a farm. It's done via a submenu on the main screen, so it's usually at the right pressure when they start working.
Pressures can be set as low as 0.6 bar in the field and up to 2.5 bar on the road, depending on the weight of the tractor and what it's towing.
The plan is now to work with their local tyre company to produce a laminated chart for each tractor covering the main contracting scenarios. This will make it easy for operators to get the pressure spot-on every time.
A lower pressure in the field spreads the tyre, which gives more grip and less compaction.
"We have less slippage in the paddocks. In conditions that are marginal, the reduced pressure results in far better traction," Rob says.
That better traction has had other spinoffs. Quigley Contracting used to have four tractors constantly duelled-up, and, in spring, they ran another three on narrow row crop tyres for precision planting. The duel-wheel tractors then had limited use for the rest of the year.
"We've now done away with all that. One tyre size on the tractors covers all the services we do," Rob says.
They can now do the same work with five fewer tractors.
"The tractors all run with 710 tyres. We essentially deflate them to 900s. It leaves very little wheel mark for such big tractors."
Another spinoff is access to paddocks is easier without the duals. VarioGrip includes a compressor within the tractor, so Quigley Contracting no longer has to carry compressors on the back of utes.
"In effect, we have a big compressor on wheels. We can use it to blow out radiators or seed drills. We're also starting to spec air brakes on implements, as they are more efficient than hydraulic."
A slow puncture can now be fixed at the end of the day or at least give the operator leeway to get to a safe place.
"We now have a limp-home mode," Rob says.​  
Keep up to date in the industry by signing up to Farm Trader's free newsletter or liking us on Facebook