60th anniversary of self-propelled forage harvester
---
New Holland has enjoyed many milestones over the decades, but the latest is the 60th anniversary of its self-propelled forage harvester
New Holland Agriculture celebrates the 60th anniversary of its first forage harvester, transforming its legendary model 818 pull-type forage harvester into a self-propelled machine known as the 818 Crop Cruiser.
Since those early days, New Holland has been at the forefront of forage harvesting with a host of pioneering industry firsts that have revolutionised the sector.
New Holland is marking this milestone with a 60th-anniversary special edition of its FR Forage Cruiser for all units produced for the next season, with each machine sporting a distinctive 60th-anniversary decal to symbolise the machine's advanced technologies and exceptional performance.
"For the last 60 years, New Holland forage harvesters have constantly pushed the boundaries of performance, delivering the highest quality silage to meet the most demanding requirements of livestock farmers," says Henrik Aaskov Hansen, global product manager for New Holland Self Propelled Forage Harvesters.
"More recently, our FR Forage Cruisers have also proven invaluable assets in biomass production, which is developing fast in response to the growing demand for sustainable fuels. As we mark this important milestone, New Holland Forage Harvesters are demonstrating how their versatility is helping our customers to improve their profitability and fully grasp the opportunities of new revenue streams."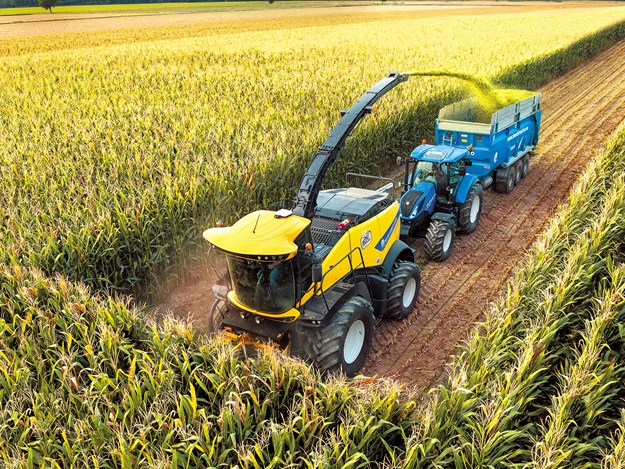 Versatility, productivity, and crop quality
New Holland's forage harvesters deliver crop quality and throughput with no compromise. The proven Power Cruise™ features ensure ultimate capacity in fields of varying crop density, while the state-of-the-art headers power through grass, corn, and whole crop.
The FR Forage Cruiser can be relied on for industry-leading chopping performance with features such as HydroLoc™ technology that ensures constant chop length regardless of crop type and variations in load and the strong cutterhead with a wide range of configurations to match every need – from conventional or shredded silage to biomass.
The FR Forage Cruiser leverages advanced technologies to deliver the best quality silage for livestock feed and biomass plants alike. These include the industry-leading ActiveLOC™ technology, which automatically calibrates the chop length to ensure the most nutritious silage depending on the actual moisture of every individual swath. The award-winning NutriSense™ NIR sensor nutrient analysis technology provides valuable crop nutrient data collected by the forage harvester, which can be visualised on the MyPLM Connect portal, helping farmers make informed decisions to market their crops most profitably and tailor inputs for enhanced future yields.
The FR Forage Cruiser also offers all the advantages of New Holland's MyPLM Connect telematics, which keeps the farmer connected to the machine at all times, enabling them to send and receive real-time information that helps operate more efficiently, productively, and profitably.  
Find new and used farm machinery for sale in NZ
Keep up to date in the industry by signing up to Farm Trader's free newsletter or liking us on Facebook