Amazone releases compact harrow-mounted drill
---
Amazone has released a new compact harrow-mounted precision seed drill – the Centaya 3000 Special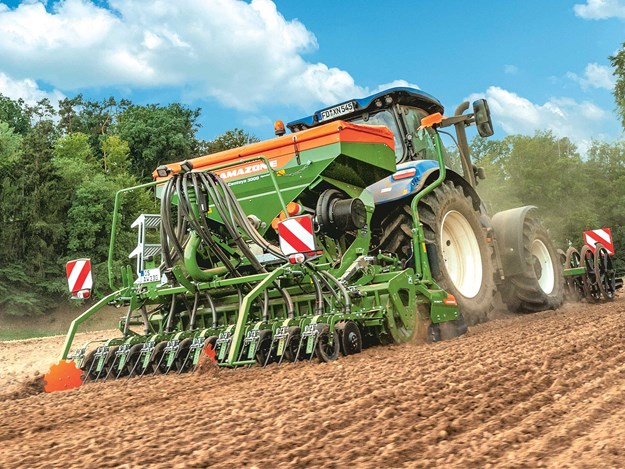 Amazone has released a new compact harrow-mounted precision seed drill – the Centaya 3000 Special – and Claas Harvest Centre product manager – Amazone, Steve Gorman, says it's extremely user-friendly.
"The 1000-litre hopper is positioned well forward and thus offers an optimum centre of gravity close to the tractor," he says. "The low profile of the hopper also gives the driver a better view of seeding operations.
"In turn, the segmented distributor head is mounted behind the hopper, directly above the coulters. This arrangement ensures a short conveying time for the seed. The distributor head can be reached easily via the loading board."
The hopper features a wide 2.3 x 0.84-metre opening for rapid and easy filling. Its steep walls reliably guide the seed down to the metering unit and ensure clean emptying. An optional 1500-litre hopper is available.  The metering unit can be easily accessed and calibrated from the loading board. 
"The operator simply collects the seed from the metering unit using the sample bag and then weighs it using the supplied scales," Steve says. "The metering cassettes can be easily changed to cater for different-sized seeds. Only two bolts need to be released directly on the metering unit using the tool supplied."
All operations are controlled using Amazone's AmaTron 4 or AmaPad 2 terminals. The optional TwinTerminal and Comfort Pack capabilities enable pre-metering, calibration, and hopper emptying to be controlled from the cab.
The Centaya Special can be equipped with either RoTeC single disc or TwinTeC Special double disc coulters.
"RoTeC coulters are maintenance-free and work very reliably, even in high trash conditions," Steve says.
The Control 10 depth guidance disc or the Control 25 depth guidance roller ensures the pre-selected sowing depth is precisely maintained.
RoTeC coulters can be set on row spacings of 12.5 or 15cm. The TwinTeC Special double disc coulters provide more precise seed placement at higher speeds or in inconsistent soils. They have a disc diameter of 340 mm, a coulter pressure of 40kg, and a row spacing of 15cm.
"Thanks to the trailing depth guide roller, there's always good contact with the soil, so that optimum seed placement is ensured," Steve says. The Centaya Special can be easily and quickly connected to other Amazone equipment, such as rotary harrows, rotary cultivators, or compact disc harrows, without tools using the QuickLink quick coupling system. 
Find new and used farm machinery for sale in NZ 
Keep up to date in the industry by signing up to Farm Trader's free newsletter or liking us on Facebook